Hamburger Potato Casserole
Hachis Parmentier Recipe
There are probably infinite variations on this hamburger potato casserole recipe, known in French as hachis Parmentier. Here I've used spinach and bacon along with the traditional ground beef and layers of mashed potatoes.
Hamburger Casserole Recipe Notes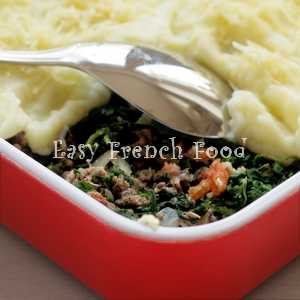 Spinach
In the interest of making things easy, this hamburger potato casserole calls for frozen spinach. Of course cooking spinach is not difficult and you can substitute blanched fresh spinach in this recipe if you choose. Use an equal weight (before blanching) of fresh, uncooked spinach and be sure to squeeze out the excess water after blanching.
Mashed Potatoes
If you want to make things even easier, you can substitute instant mashed potatoes in this hamburger potato casserole. Look for a quality product that should contain just dehydrated potatoes and not much else. If you decide to go ahead and make your own, but are feeling a bit hesitant, see here for a few tips: garlic mashed potato recipe.
Hachis Parmentier aux épinards
Preparation time: 1 hour (including mashed potatoes)
Baking time: 30 min
Makes 6 to 8 servings
Ingredients
2 pounds frozen spinach
3 pounds potatoes
1 1/2 cups milk
4 tablespoons butter
salt and pepper taste
2 onions
4 ounces lean bacon (lardons if you can find them)
1 tablespoon olive oil
2 cloves garlic
1 pound lean ground beef
2 tomatoes
1 tablespoon mixed herbs de Provence
1/2 teaspoon salt
1/2 teaspoon pepper
1/4 teaspoon cayenne pepper
1 cup grated cheese (Gruyère works great)
Directions
Remove the spinach from the freezer several hours before you plan on cooking. It will defrost faster if you cut it into smaller pieces after it has defrosted some. Use a sharp knife. When it has completely defrosted, squeeze the spinach with your hands to get rid of all excess water. Chop spinach.
Peel and cut the potatoes in about 1 inch slices. Place in a large pot and cover with cold water. Add 1 teaspoon salt. Bring to a low boil on medium heat. Cook potatoes until very tender - 20 to 25 minutes. Remove from heat and drain. Mash the potatoes with a potato masher or process in a food mill. Stir in milk and butter and season to taste with salt and pepper. Set aside. (If you are using packaged mashed potatoes or if you have leftovers, you will need 6 cups of mashed potatoes for this recipe.)
Preheat oven to 400°F (200°C).
Peel and chop the onions. Slice the bacon in small pieces. Heat the olive oil in a large skillet on medium heat. Add the onions and bacon and cook, stirring occasionally, until the onions are quite soft and the bacon cooked - about 8 minutes.
Peel and crush the garlic and add it to the onions and bacon. Cook for one minute. Add the ground beef and cook, stirring occasionally, until the meat is cooked through, about 5 minutes.
Slice and seed the tomatoes, then dice them. When the meat has cooked, add the diced tomato, chopped spinach, Parmesan cheese, herbs de Provence, salt, pepper and cayenne pepper. Stir to combine well and remove from heat.
Lightly oil a 13X9 inch baking dish. Spread half of the mashed potatoes in the bottom of the dish. Top with all of the meat mixture, spreading it evenly. Top with the remaining mashed potatoes and then the grated cheese.
Bake at 400°F (200°C) for 30 minutes or until lightly browned. Remove from oven and allow to cool 5 minutes before serving.
Serving Suggestion: Serve with a simple salad of mixed greens topped with olive oil and balsamic vinegar.
Why Parmentier?
In France, if you order a dish with Parmentier as part of the name, you will find potatoes on your plate. Augustine Parmentier is a fabulous character from French history - an agronomist with many accomplishments to his name, including changing the French attitude towards potatoes. Here is a more traditional version of the hamburger potato casserole that commemerates Parmentier: mashed potato casserole.
New!

Comments

Have your say about what you just read! Leave me a comment in the box below.