Easy Roast Beef Recipe
The luscious mustard sauce that accompanies this easy roast beef recipe goes together in a matter of minutes. The two together make a quick, yet impressive, dinner.
Cooking and Serving Boneless Roasts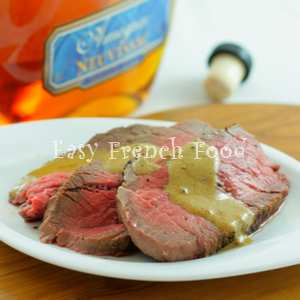 Here in France we can easily buy a boneless roast beef (le rosbif) that is wrapped in a bit of fat and tied up with twine. Boneless roasts are so easy to serve. After cooking, just remove the twine and fat, and slice as thickly as you wish. That's it - nothing else to fuss with!
There is, however, no reason you couldn't make this easy roast beef recipe with a bone in beef roast, although I wouldn't recommend it with tougher cuts of meat (which probably do better with a long slow braising).
This recipe calls for a high and fast cooking of the roast. Some people think the only way to cook a roast is slowly in low heat, but this quick method gives really juicy tender results with small roasts. You will need to adjust the cooking time (longer) and temperature (lower) if you use a larger roast. The very best way to cook all of your roasts to your liking and with no stress is to use an instant read digital thermometer.
Menu Suggestion
For a delicious meal, I recommend you serve your roast beef with steamed potatoes (dressed in butter and a sprinkle of French sea salt) and another steamed vegetable, like cauliflower or carrots.