Beef Daube Provençal
Ready to try a beef daube recipe that will have you coming back for more and more? The flavors in this French Provençal stew recipe are just a little unusual, and completely tasty.
Recipe Notes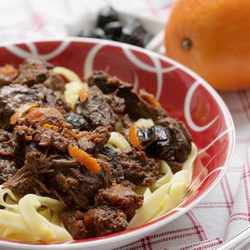 This recipe is really quite easy, but it requires time to marinate the meat and then many hours to cook, so save it for a weekend or any day you'll be at home. Once it's cooking it requires next to no attention, and your house will smell so good that everyone will be looking forward to dinner hours in advance.
Ideally this recipe bakes in a daubière, which is a special French earthenware vessel that allows for air tight braising. Alternatively, you can seal the lid on an oven proof dish with a simple dough made from flour and water, called a lut in French cooking. Being a simple sort of gal, I just use my trusty Staub Dutch oven with the lid on and the beef daube recipe comes out just fine, although perhaps more of the sauce evaporates then would with a daubière.
Please use a fairly good red wine to make this. You don't need to knock yourself out, but don't use plonk, because the flavor of the dish rests upon the wine. (By the way this is not one of those dishes where you can use a substitute - if you don't do wine, I am afraid you will have to skip the beef daube). I used a Côtes de Rhône to make this recipe and the result was perfect.
Serving Suggestion: For a satisfying and delicious dinner, serve this beef daube recipe with a loaf of French bread and a side of sauteed French green beans
"This was one of the most delicious things I've ever served. The challenge of cooking anything slightly 'exotic" in Wisconsin is finding ingredients that can't be found in the bratwurst and cheese aisles. Other than the specific type of olive your recipe called for, I was ultimately to find everything at the local Piggly Wiggly (yes, that is the name of our supermarket in these parts - just to give you an idea of what I'm working with!) I had never made anything like this before and didn't quite know what to expect. Needless to say, I was pleasantly surprised. I'll be making it again this weekend for another dinner party. I never tire of it (obviously)!"
- Steven