Garlic Mashed Potato Recipe
This garlic mashed potato recipe calls for boiling the garlic with the potatoes. Cooking the garlic removes any harsh flavor it might otherwise give this delicious and versatile dish.
Recipe Notes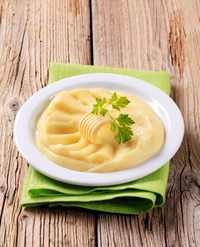 To skin or not. If you don't feel up to it, three is no need to peel the potatoes. Do use thin skinned potatoes however and wash them carefully. The skins will mash up too, making the potatoes a little grey, but nonetheless delicious.
The cream. I like to make mashed potatoes with crème fraîche which has just a slightly tangy flavor. You could just as easily make this garlic mashed potato recipe with whipping cream, half and half, milk, buttermilk or even chicken stock.
Olive oil. High quality olive oil can be substituted for the butter in this recipe. You will taste the olive oil, so serve the potatoes with something that will appreciate its presence - like grilled lamb chops.
Mashing. A stainless steel food mill makes the smoothest and creamiest potatoes. An electric mixer will do a good job as well. You can also use a potato masher, but the result will be less smooth - more rustic one might say. Don't use a food processor to make mashed potatoes unless you wish to serve glue.
Additions. Try adding a tablespoon of French style mustard, a 1/4 cup of Parmesan cheese, or a handful of fresh chopped fine herbs (parsley or chives would be great with this garlic mashed potato recipe ). Stir these additions in with the milk and butter.
Keep warm. Mashed potatoes can be kept warm in a covered crock pot set on low heat. You can also keep them warm by placing them in a bain-marie or double boiler type of arrangement and keeping the water at a simmer.
Rewarm. To rewarm a refrigerated garlic mashed potato recipe, use the microwave. Alternatively, you can put them in a baking dish and top with a little cheese and rewarm in the oven. Baking them this way though makes them a little crusty.
Use in recipes. In French cooking mashed potatoes can serve as the base for souffles, gratins (such as hachis Parmentier - mashed potato casserole), croquettes, pommes Duchesse and pommes Dauphine. Mashed potatoes might also be mixed with chunks of other cooked vegetables such as mushrooms, carrots, cabbage, or broccoli.
Serve with: Just about anything. Poultry of course, but also beef (like this sensational crock pot beef stew recipe - Estouffade) charcuterie, fish, or even boiled or poached eggs.
Purée de pommes de terre à l'ail
Preparation time: 20 minutes
Cooking time: 30 min
Makes 4, 1 cup servings
Ingredients
2 pounds potatoes
6 cloves garlic
1 cup creme fraiche, whipping cream, half and half, or milk
1/4 cup butter
salt and pepper
Directions
Prepare potatoes and garlic.

Peel the potatoes. Cut them into even sized pieces about 1 1/2 inch to a side. Place in a pot of cold water and add several pinches of salt. Peel the garlic and place in the water as well.

Cook potatoes and garlic.

Place the pot on the stove on medium heat and bring to a low boil. Cook at a low boil for 20 to 25 minutes. The potatoes are done when the largest piece breaks apart when poked with a knife.

Warm cream.

Place the creme fraiche (or substitute) in a small pan. Bring the cream just to a simmer, then remove from heat.

Drain and mash.

Drain the potatoes when they are done. Use a vegetable mill or an electric mixer to mash the potatoes.

Mix in warmed cream and butter.

Gradually blend in the cream and butter, cut in small pieces. Season to taste with salt and pepper.
New!

Comments

Have your say about what you just read! Leave me a comment in the box below.