Almond Potato Croquettes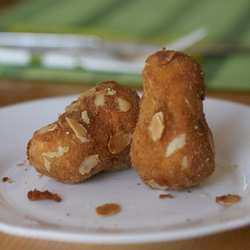 Almond potato croquettes are made by mixing mashed potatoes with almond meal, shaping into balls, and then deep fat frying. They make a delicious accompaniment to just about any main dish where potatoes might be served. Although perhaps a little time consuming, they are still very easy to make and will add a nice touch of elegance to your dinner table.
Recipe Notes
Almonds
This potato croquette recipe calls for almond meal, which is made from finely ground nuts. It is sometimes sold as almond flour. It also calls for sliced almonds, but you can substitute slivered if that is what you have. I would recommend chopping the slivered almonds a little though. As with all cut nut products, store unused portions in the freezer - cut nuts quickly become rancid.
Mashed Potatoes
Do follow the recipe directions for mashing the potatoes. If you try substituting leftover mashed potatoes they may be too moist. As it heats in the oil, the excess water in the potatoes will cause the croquettes to fall apart.
Shaping
The original recipe for pommes amandine that I tested called for shaping the croquettes into pear shapes. This is really not necessary, but in truth kind of fun for a change.
Finishing Salt
The final step in making a perfect croquette is sprinkling with a little salt while they are still very hot. I recommend French sea salt for this, but do use whatever is your favorite coarse sea salt.
Serving
Because they need to be served quite hot and fresh out of the oil bath, it is best to serve the potato croquettes with something that doesn't require any last minute fussing. You can make them up to the point they are breaded and leave them to chill in the fridge until you are ready to fry. The final step of frying only takes a few minutes. They would be quite nice with any dish that has a small amount of sauce. For a great combination, try it with these mustard pork chops.
Almond Potato Croquettes
Pommes de terre amandine
Prep time: 30 min
Refrigeration time: 1 hour (at least)
Cook time: 30 min
Makes about 15 golf ball sized croquettes
Ingredients
1.1 pounds (500g) starchy potatoes
2 tablespoons (25 g) butter
2 egg yolks
1/2 cup (50g) almond meal
1/3 cup (40g) all purpose flour
2 eggs
1/3 cup (30g) sliced almonds
1/3 cup (40g) dried bread crumbs
1 quart (1 liter) vegetable oil
salt and pepper
coarse finishing salt
Directions
Peel the potatoes and slice them in chunks. Place them in a pot of cold water with 1 teaspoon salt. Place on medium heat and bring to a boil. Boil until soft (about 10 to 15 minutes after the water has begun to boil).
Remove from heat and pour the potatoes into a colander to completely drain all the water. Shake off any excess water. Put the potatoes back in the warm pot. The warmth of the pot will help to evaporate extra water which you don't want.
Use a potato masher to mash the potatoes in the pot. Add in the butter and continue mashing to get a smooth puree.
Allow the mixture to cool for several minutes then mash and mix in the egg yolks and almond meal. Mix in 1/2 teaspoon salt and 1/8 teaspoon pepper.
Cover the potatoes and place in the refrigerator to chill for at least 30 minutes.
When the mixture is cold, remove from refrigerator and shape into balls or patties or try making little pear shapes. Place the balls in the refrigerator while you are preparing the breading plates in the next step.
Prepare three breading bowls or plates. In one, place the flour. In the second, beat the two eggs with 1 tablespoon of water. In the third, stir together the almonds and bread crumbs.
Roll the balls in the flour and shake off excess flour. Then roll them in the beaten egg and finally in the bread crumb and almond mixture. Place the breaded balls back in the refrigerator for at least 30 minutes.
When you are ready to fry, heat the vegetable oil to 350-400°F (180-200°C). Lower the balls into the hot oil and cook until golden brown - about 5 minutes. Remove from oil and drain on paper towel.
Sprinkle the balls with finishing salt and serve immediately.
New!

Comments

Have your say about what you just read! Leave me a comment in the box below.