Cheesy Mashed Potatoes Recipe
This cheesy mashed potatoes recipe is known as aligot is France. They are a speciality of the Auvergne region in the mountainous south central area of France (called le Massif Central). You will sometimes find these potatoes made with great fanfare in French restaurants, but you can easily make them at home and put on your own show.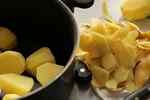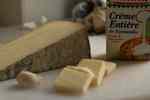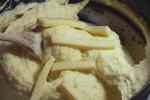 Like many traditional French foods, there is a legend to go with these cheesy mashed potatoes. Aligot was supposedly first concocted by three bishops who had met up at the geographical point where their respective dioceses met. When it came time to eat, they prepared a meal with a little bit of what each had brought along: cheese for the first, potatoes for the second and milk for the last.
Although they met more then 1400 years ago, you will still find a cross at the junction of the French departments of Lozère, Aveyron and Cantal that evokes this legendary encounter.
You will need to find the right cheese to get good results with this easy vegetable recipe. The classic aligot calls for Tomme fraiche, preferably one from Auvergne. The term tomme is used to describe a wide variety of cheeses generally made in the French Alps from skim milk. You should be able to find a Tomme de Savoie or even a Cantal cheese which will work fine for this recipe.
I have seen some cooks recommend a quality mild cheddar cheese to make aligot and even a recipe calling for mozzarella, but you'll be stepping into unknown territory if you use these with the cheesy mashed potatoes recipe given here.