Chocolate Tart Recipe
Here is a very easy chocolate tart recipe that kids will love eating as well as making. It is simply a tart shell that has been filled with chocolate ganache and perhaps decorated with a few candies.
Recipe Notes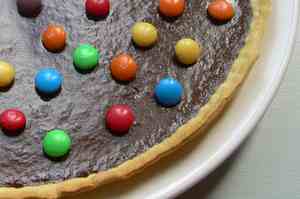 What is Ganache
At its simplest, a ganache recipe is just a mixture of heavy cream and melted chocolate. Sometimes butter will be added and sometimes various flavors, such as:
lemon
raspberry
coffee
pistachio
tea
and even lavender!
You can also vary your ganache by making it with different types of chocolate:
dark chocolate
milk chocolate
white chocolate
You will find ganache used as a filling or frosting in various French cakes and pastries.
Easy Chocolate Tart

Tarte à la Ganache
Makes 8 servings
Ingredients
1 9 inch pre-baked tart or pie shell

10 ounces good quality, sweet, dark chocolate

1 1/4 cups heavy cream

1/2 cup Smarties or MandM's
Directions
Break the chocolate into small pieces and place in a sturdy, heat resistant mixing bowl.
Pour the cream into a small saucepan and warm on medium heat. Remove from heat as soon as it comes to a boil.
Pour the hot cream on top of the chocolate and cover the mixing bowl with a plate. Let it sit for five minutes.
Using a wooden spoon stir the chocolate and cream until completely mixed. Pour into the pie shell.
Refrigerate your tart for at least an hour before eating. You can decorate it just before serving with Smartie or M and M type candies.
New!

Comments

Have your say about what you just read! Leave me a comment in the box below.