Easy Flan Recipe for Kids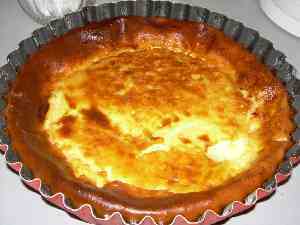 This is Max's favorite flan recipe. He has tried several, but everyone in the family prefers this one. Sometimes French flan is served in a pie crust, but that is unnecessary with this recipe. The flour in the batter settles to the bottom of the flan as it is cooking and forms a crust all by itself.
Flan à la Francaise
Prep time: 15 min
Bake time: 45 min
Ingredients
1 1/4 cups flour
2/3 cups sugar
4 eggs
4 cups milk
1 teaspoon vanilla
salt
butter (to grease pan)
Directions
Sift the flour into a bowl. Form a hole in the center of the flour and pour in the sugar and a pinch of salt.
Beat the eggs in another bowl and add this to the center of the flour mixture as well.
Pour in the milk slowly, stirring as you go. Continue stirring until you have a smooth batter. Stir in vanilla.
Grease and flour a two quart baking dish and pour in batter.
Bake at 425° F for 45 minutes. Let cool completely and refrigerate before serving.
New!

Comments

Have your say about what you just read! Leave me a comment in the box below.