Easy Tarte Flambée Recipe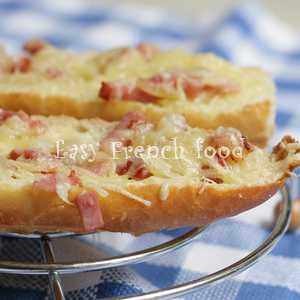 When I saw this easy tarte flambée recipe on The Quince Tree, I knew I'd be trying it soon.
Lunches can be a challenge, even here in the glorious food-loving Hexagon. I am usually pressed for time and never sure who is going to show up or when. The hardest part though is coming up with new menu ideas. (I love leftovers, but don't always have them.)
This tarte flambée recipe is a great response to the challenge. Quickly fixed, it can be re-warmed for latecomers, and the ingredients are all things I am likely to have in the fridge. And fortunately, yahoo, it also tastes good!
Tarte flambée, also known as flammekueche, is a speciality of the Alsace region (and beyond) that is normally cooked on a thin crust, similar to pizza dough. The tart is often served in long slender slices that are rolled up to eat and enjoy. This is one of the rare times you are likely to see a French person eat with their hands. Like much of the food in the Alsace region, it is a rich affair, featuring lots of cream, bacon and cheese.
Here the crust is replaced by a horizontally sliced baguette, putting the recipe squarely in the easy and quick category. This recipe is still very rich, so try serving this with a simple tossed salad to balance out the meal. An Alsatian would probably recommend a pint of beer as well.
And be sure to drop by the Quince Tree. Fellow blogger Sue, who lives in England with her family, serves up a charming mix of recipes, home crafts, and nature. Thanks Sue for making lunchtime a little easier chez nous!
Tarte Flambée Express
Prep time: 15 min
Grill time: 2 min
Ingredients
1 baguette, sliced in two horizonatally
1 tablespoon butter
7 ounces lardons (or lean bacon, cut in small strips)
1 onion, peeled and chopped
1/2 cup crème fraiche (I didn't have any so I used heavy cream and that worked fine)
1 cup shredded cheese (Gruyère or similar)
Directions
Melt the butter in a medium skillet on medium heat. Add the lardons and the chopped onion and cook until the bacon is cooked through and the onion soft (about 10 minutes).
Spread the crème fraiche on the cut side of the baguette. Spread the bacon and onion mixture even on top. Top with the shredded cheese.
Place under the grill for about 2 minutes or until the cheese has melted and the bread is warmed through. Serve immediately.
Find some more great ideas for French starter courses here: French Entrees.
Or try one of these other classic French sandwiches:
New!

Comments

Have your say about what you just read! Leave me a comment in the box below.