Financier Recipe
Brick Shaped Almond Tea Cakes
Try this financier recipe when you are hungering for something decidedly French and a little different from the typical tea cake taste. I have classified them under French cookies because they are made in individually sized molds. They are really more like a cupcake perhaps, but that doesn't sound quite right. I put them in the same class as madeleine cookies.
Financier Molds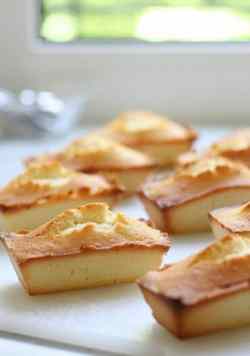 The defining feature of this tea cake is its shape. You can make them in a muffin pan, but you will be missing out on the fun.
Try to guess why they are called financiers before I tell you . . .
It is because of their shape. They are formed to look like a brick of gold, called a lingot in French.
You can find a variety of financier molds made from different materials and slightly different shapes. Some of these seem a bit flat to me - the final result is supposed to look like a brick not a rectangular pancake. I measured my mold and each cavity holds 6 tablespoons.
If you decide to make these without the mold, no problem. A typically sized muffin tin will work fine as a substitute.
The Recipe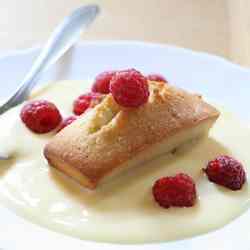 The financier recipe here is a very much in keeping with the classic interpretation, which is similar to a Visitandine cake. Made with almond meal and no leavening other than the egg white, these cakes have a dense and moist crumb.
Of course, you will find all kinds of things called financiers made from other sorts of cake batters, with different fillings, and even with different shapes. But there, people are really straying from the original idea.
These are substantial treats, and one would make quite enough for a snack I would imagine. If you wish to serve these for dessert, here is a great idea. Use the egg yolks left over from the recipe to make a crème anglaise and serve this with the cake along with some tasty seasonal fruit. Raspberries, peaches or blueberries would all marry especially well with the almond flavored cake.