Coconut Macaroon Recipe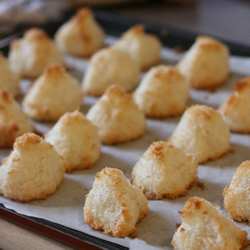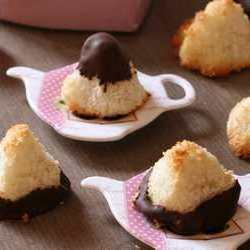 This coconut macaroon recipe takes less than ten minutes to put together and just a dozen minutes to bake. The coconut gives them a wonderful chewy finish which makes them extra satisfying. Truly the perfect treat to whip up anytime you need a sweet little nosh.
In French, this coconut macaroon recipe goes by the name of rochers coco or coconut rocks, which is reference in to the way they look and not their weight. They are perfect two-bite-sized treats that take next to no time to make and are equally delicious warm from the oven or the next day.
Just to expand your French vocabulary a bit more, you can also call these treats les congolais. A rocher coco and a congolais are the same cookie.
In France, they are typically shaped into pyramids. This gives a lot of nice edges where the coconut turns golden brown and crunchy. No time for pyramids? No worries. Just form balls and the cookies will still be yummy.
The chocolate topping (or bottoming) is completely optional on these. We prefer them without, which is testament to just how good this coconut macaroon recipe tastes.
Coconut Macaroons

Rochers à la noix de coco
Preparation Time: 10 minutes
Baking Time: 12 minutes
Makes 24
Ingredients
3 cups or 8 ounces (225g) dried, unsweetened coconut flakes
3/4 cup (150g) sugar
1/4 teaspoon salt
3 large egg whites
1/2 teaspoon vanilla or almond extract (optional)
2 ounces (50g) dark semi-sweet chocolate (optional)
Directions
Preheat oven to 350°F (180°C). Cover a baking tray with baking (parchment) paper or a silicone baking mat.
In a mixing bowl, stir together the coconut, sugar and salt until well combined. Stir in the egg whites and vanilla or almond extract if you are using it. Continue stirring until all of the coconut is wet with the egg white - about 1 minute. You can use your hands to mix as well.
Shape and press the coconut dough into 24 or so balls (they should be a little smaller than a golf ball) and place on covered baking tray. Pinch and shape each ball into a pyramid. The macaroons can be placed close together on the tray as they do not spread when baking.
Place in preheated oven to bake for 12 minutes. Remove from oven and allow to cool slightly before moving them off the baking sheet.
Optional chocolate: Allow the macaroons to cool completely before dipping in chocolate. Warm the chocolate in a small bowl in the microwave until melted. Dip each macaroon in the chocolate. Dipping the bottom gives more chocolate per macaroon.
These can be stored at room temperature in an air tight container for several days.
Recommendation
If you have never tried baking paper, I highly recommend it. I cover just about any dish that is going in the oven with this. Cookies never stick and clean up is quick. It is also convenient if you are doing more than one round of cookies as you can pull all the cookies off the tray at once, cover the tray with a new sheet of paper and keep baking as the first round of cookies cools without the tray.
NUTRITIONAL INFORMATION
(Amount per macaroon without chocolate)
Calories: 93
Fat: 6.1g
Saturated fat: 5.4g
Protein: 1.1g
Carbohydrate: 8.5g
Fiber: 1.6g
Cholesterol: 0g
Sodium: 34 mg
New!

Comments

Have your say about what you just read! Leave me a comment in the box below.