List of Cheeses
French AOC Names
Here is a handy list of cheeses that includes all of the French cheese that benefits from an Appellation d'origine contrôlée (AOC).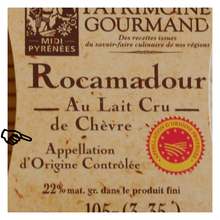 As you may know, there are hundreds of different kinds of French cheese. Only a handful (relatively speaking), however, benefit from an AOC. The AOC is system that has been developed in France to protect certain wines and food. When you buy a French product marked with an AOC, you are guaranteed that the food has been produced according to certain strict conditions. These conditions include the area from which the product comes from and how it is made.
This list of cheeses is divided according to type. If you are not already familiar with the idea, you might benefit from learning the types of cheese, as it makes appreciating the variety all the more easy. You'll also find listed here the region in France from which each cheese originates.
Soft, Natural Rind Cheeses
Brie de Meaux, Ile de France
Brie de Melun, Ile de France
Camenbert, Normandy
Chaource, Champagne
Neufchatel, Normandy
Soft,Washed Rind Cheeeses
Pressed Cheeses
Cantal, Auvergne
Laguiole, Auvergne, Languedoc-Roussillon
Morbier, Franche-Comté
Ossau-Iraty, Aquitaine
Reblochon, Rhône-Alpes
Saint-Nectaire, Auvergne
Salers, Auvergne
Tome des Bauges, Rhône-Alpes
Fresh Cheese
Pressed and Cooked Cheeses
Abondance, Rhône-Alpes
Beaufort, Rhône-Alpes
Comté, Franche-Comté
Blue Cheeses
Bleu d'Auvergne, Auvergne
Bleu de Gex, Franche-Comté
Bleu des Causses, Midi-Pyrénées
Bleu du Vercors, Provence-Alpes-Côte, Rhône-Alpes
Fourme d'Ambert or Montbrison, Auvergne
Roquefort, Midi-Pyrénées
Goat Cheeses
Banon, Provence-Alpes-Côte d'Azur
Chabichou du Poitou, Poitou-Charentes
Chevrotin, Rhône-Alpes
Crottin de Chavignol, Centre
Mâconnais, Bourgogne
Pélardon, Languedoc-Roussillon
Picodon, Rhône-Alpes
Pouligny Saint-Pierre, Centre
Rigotte de Condrieu, Rhône-Alpes
Rocamadour, Midi-Pyrénées
Sainte Maure de Touraine, Centre
Selles sur Cher, Centre
Valençay, Centre
New!

Comments

Have your say about what you just read! Leave me a comment in the box below.