Go from Champagne Region France to La Marmite Back Issues

La Marmite, Issue #10 -- Champagne Region France
May 21st, 2009
Bonjour et bienvenue to the tenth issue of La Marmite featuring the foods of the Champagne region of France.
In this issue you will find featured:
Some special foods of the Champagne region.
A Champagne Punch Recipe.
This month's star vegetable is the topinambour -- can you guess what that is?
Updates on all that is new at Easy French Food.
---
Champagne Foods
Probably when you think of Champagne, it calls to mind light, airy and easy times of celebrating, so it may come as a surprise to find out that the climate and soil of the Champagne-Ardenne region of France are fairly inhospitable.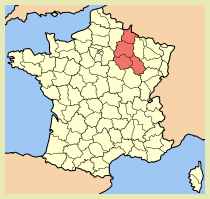 Indeed part of what characterizes Champagne wine is that the grapes used to elaborate it never have time to fully ripen in the chalky soil and short summers that characterize this region. Perhaps in response to the vigorous climate, the regional cuisine tends to be solid and serious and not at all what you might expect.
Here is a short culinary tour of the Champagne region.
Boudin Blanc de Rethel
The boudin blanc that is a speciality of this region contains no rice like the boudin from the south of the United States. In France, this bloodless sausage is made from pork, eggs, milk and some seasoning and is surprisingly delicate. Sometimes truffles, chestnuts, foie gras or other enhancements are added.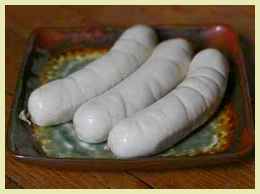 Boudin blanc is typically enjoyed on festive occasions and served with such dishes as potato galettes or simply mashed potatoes. If you decide to try French style boudin blanc be sure to cook them slowly. The easiest way to prepare them is to put them on low heat with a little unsalted butter and perhaps a few apple slices for about twenty to thirty minutes, turning occasionally to cook them evenly.
Chaource
This is one of France's 44 cheeses protected by an AOC (appellation d'origine controlée). Named after a town in the Champagne region, this is a soft cow's milk cheese with a white, downy rind. The smell and taste is said to be reminiscent of mushrooms.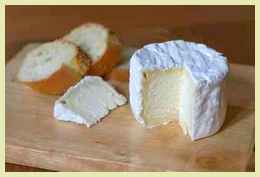 This is a perfect cheese for serving after a meal, but it is also recommended as an appetizer served with a glass of sweet fortified wine, such as Porto. Note that it becomes softer with aging, similar to a Camembert, but it must be eaten before it becomes runny. You can order Chaource cheese as well as other French cheeses on Amazon and have them delivered to your doorstep.
Pieds de Cochon Sainte-Menehould
The slow cooked pigs' feet of Sainte Menehould are so treasured that there is even a brotherhood pledged to the upholding of this culinary tradition. According to legend, an absent minded cook left a pot of pigs' feet on the stove over night and when he awoke he found himself with something so delicious it became a regional speciality.
These days the pigs feet are cooked for several hours in white wine, then breaded and grilled to crunchy, juicy perfection. If you are ever near Sainte Menehould in the eastern part of Champagne-Ardennes, be sure to sample this dish in one of the local restaurants.
Potée Champenoise
You will find potées served up all over France, with each region boasting it's particular version. It is essentially a pot of slowly cooked meats and vegetables with a just enough broth to be called a stew.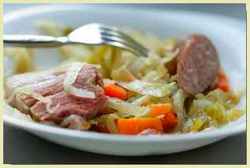 Potee Champenoise normally features several types of pork (sausage, ham hocks, and bacon) along with sturdy root vegetables such as turnips, carrots, and potatoes. You can find a recipe for this French Stew here, but you might like to wait for a cold day to try it out.
Ratafia
A ratafia is an alcoholic drink that was traditionally shared when a treaty was signed or shall we say, ratified. In the region of Champagen-Ardenne, ratafia is made by adding brandy to the unfiltered, freshly pressed juice of pinot grapes, the same grapes used to make champagne. The mixture is then aged in oak barrels for at least two years, producing a sweet, amber liquid with an alcohol content of 18 percent.
Ratafia is served cold as an apéritif or with dessert, and marries well with foie gras, blue cheese, and chocolate.
Vinaigre de Reims
This vinegar is made from a small part of the same wine that is used to make champagne. When the sediments are removed from champagne, a bit of the wine is unavoidably expelled and it is from this that champagne vinegar is made. This makes a very mellow vinegar that can be added to so many things, giving them just a little bite that is never harsh. You can learn more about how to use fabulous champagne vinegar here.
Salade au Lard
In French, lard refers to both a pure pork fat that is sometimes used to wrap cuts of meat in, and also to a leaner version which you know as bacon. Salade au lard is a hot potato salad that also includes the delicious mineral taste of fresh greens.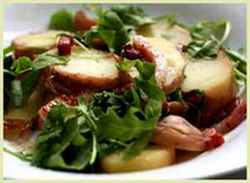 Dressed in a vinagrette, this is a great chance to use champagne vinegar! You'll find similar salads made in Lorraine, which borders the Champagne-Ardenne region to the east, and on into Germany.
Biscuit Rose de Reims
These pretty pink cookies look a bit like lady fingers and indeed they can used to make a charlotte russe. Originally made to dip in champagne, they are now just as popular at tea time. You may be astonished to find out that their lovely tint comes from carmine, which is basically bug juice!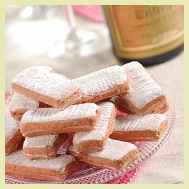 If anyone knows where to buy these in North America, I'd love to hear from you. In the meantime, visit the website of the Fossier company for a tantalizing pink experience.
Champagne Punch
Here is a simple recipe for a champagne punch that is frequently served at celebrations in Champagne as well as all over France. I just love the fact that it is called soup. The measurements are usually given in ladles, but if you feel more comfortable with cups, substitute a half cup of liquid for each ladle in the recipe.
Soupe Champenoise
Ladle of orange liqueur (Triple Sec, Cointreau, or Grand Marnier)
Ladle of lime juice
Ladle of sugar syrup
One bottle of champagne
Make sure all ingredients are well chilled before mixing. Mix together in a punch bowl and serve immediately.

Print Recipe
---
Topinambour
I may be a little late in bringing you this vegetable, because the season is nearly over in the Northern Hemisphere. However, in France, even in late spring we seem to be flush with topinambours.
Here's a picture and you tell me what you think it is: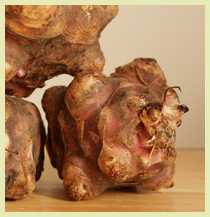 If you said Jerusalem artichoke or sunchoke, you guessed right. This underground vegetable, which originated in North America, was so heavily depended upon in France during WWII, that it has been nearly banished from the table in subsequent years. Ready for a much deserved comeback, the tubular sunchoke grows so easily that it quickly becomes invasive. High in fiber and iron, it can be eaten either raw or cooked.
For a simple appetizer, peel it and serve it with other raw vegetables and this aioli recipe. Try it in salads or anywhere you'd use a raw vegetable like jicama.
Because they have an irregular surface, peeling sunchokes can be time consuming. I'm not too meticulous and end up cutting off some of the knobs to save time. If you are going to cook them, another option is to scrub the tubers clean and not bother with peeling. Here's a simple recipe for sauteeing sunchokes.
Poelée de topinambours
1 pound sunchokes, peeled or scrubbed clean, sliced 1/4 inch
1 leek, cleaned and sliced in thin rounds
2 tablespoons olive oil
1 teaspoon cumin
salt and pepper
cilantro, chopped
Precook the sunchokes in boiling water for 6 to 8 minutes until just fork tender. Drain.
Heat the olive oil in a sturdy pan or Dutch oven on medium heat. Add the leeks and cook stirring occasionally for several minutes until the leeks begins to soften.
Add the preboiled sunchokes and continue cooking and turning for about 10 minutes or until the chokes are golden. Stir in cumin and salt and pepper to taste. Top with chopped cilantro to serve.
Makes 4 servings.

Print Recipe
---
Quoi de neuf?
Lots of cheese this past month on Easy French Food. Don't miss out on tasting these gourmet delights:
Equipping your Kitchen
If you don't already own one, I heartily recommending adding an electric teakettle to your kitchen. This are very popular in France and make boiling water fast and easy. With today's designs these are safe, durable, and highly convenient.
Finally be sure to enjoy some French lemon recipes including this lovely lemon tart recipe.
---
Next Issue:
Hope you enjoyed the culinary tour of the Champagne region. Thanks so much for spending some time with me. In the next issue, due out on June 25th: a tour of the foods of Normandy.
If you're receiving this newsletter because a friend forwarded it to you, you can sign up for your own copy of La Marmite: Subscribe to La Marmite.
A bientot and remember to enjoy your food!
Your friend in France,
Kim
Go from Champagne Region France to La Marmite Back Issues