Buying
Since it is not pasteurized, you will have a hard time finding Camembert de Normandie outside of France. The pasteurized version, labeled just Camembert, is more easily found, and in fact many countries produce what they call Camembert.
Look at the expiration date on the cheese. If there is still a month before it expires, the cheese is a youngster and should have a light and fresh flavor. Twenty days before the expiration date, the cheese should be soft and have developed some flavor. Ten days before and the cheese will be oozy and have a very pronounced taste.
In my online cheese store you can buy Camembert.
Storing
Camembert cheese should be stored at about 8°C (46°F). Which is to say, not in the refrigerator and not in the cupboard. Do you happen to have a cellar? Otherwise, keep it in the warmest part of the fridge, usually below in the vegetable keeper. Store the cheese in its wooden box and don't wrap it in plastic - you will suffocate it.
Serving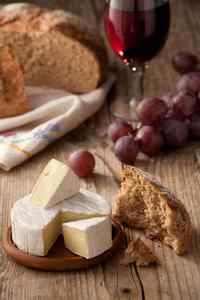 Temperature. Take the cheese out of refrigeration about 1 hour before serving. Ideally it should be enjoyed at 18°C (64°F).
Wine. Avoid high tannic wines which may bring out a bitter flavor. Instead try a light and fruity white wine, perhaps something from Alsace: a gewurztraminer or a riesling, or a low tannic red, Chinon for example. You can also skip the wine all together and enjoy your cheese like the Normans - with a glass of cider or even Calvados, the local apple brandy.
Slicing. Slice in wedges, like a pie. In France the cheese is served with a wedge cut out so that guests can gauge the ripeness.
Accompaniments. Multi-grain French bread or even a spice bread, dried fruits or fresh grapes, also jam and honey.