How to Make Crepes
A Dozen Tips For Great Results
Here are some directions for how to make crepes. Don't worry - it is really easy to make nice looking and great tasting crepes. Making crepes takes just a little bit of practice, but once you get the hang of it, you'll be able to rapidly turn out a plate full.
A Dozen Crepe Making Tips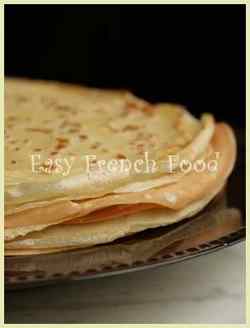 1. Use a large mixing bowl. This tip is actually good for just about anything you do in the kitchen. It took me a long time to realize that a large mixing bowl is no harder to clean than a small one, and mixing things can be much easier with a lot of space. In France people like to use a cul de poule mixing bowl. This translates as a chicken's derrière and indicates that the bottom of the bowl is rounded.
2. Whisking. Here is the order I use for mixing that gives me a smooth batter every time (I use an electric whisk:
Whisk the eggs slightly.
Place the flour, half the milk and the rest of the ingredients on top of the eggs.
Begin whisking and slowly add the rest of the milk.
Whisk until smooth.
3. Consistency. The batter should be the consistency of heavy cream. That's pretty liquid. You can adjust recipes by adding more milk at the end, but adding more flour doesn't work. If you think you've gone too liquid, mix up another thicker batter and than mix the two together. Here is a basic recipe for crepe batter.
4. Make extra batter. Make more than you need for the recipe you are following. You can always store the cooked crepes in your refrigerator and eat them as a snack or dessert in the days to come. Here are some easy crepe filling ideas if you have extras.
5. Let the batter sit. The French just let it hang out on the counter top, but if that freaks you out, put it in the fridge. Letting it sit for an hour changes the batter - the flour absorbs more of the liquid.
6. Use a quality nonstick skillet. I like to use two crepe pans at once. They measure 10 inches and are easy to handle with one hand. If you are wondering how to make crepes like you find sold in crêperies in France, you might want to invest in a electric crepe maker. These are basically a large round electric griddle. They come with a little paddle for pulling the batter around just like they do in the crêperies. Fun, but not necessary.
7. Heating. Heat the pan(s) well before cooking the first crepe. If at all possible, cook the crepes on a gas burner. An electric burner changes the effect and is difficult to get at just the right temperature.
8. Greasing. Grease the pan before each crepe with just a little oil or butter on a paper towel. This is actually optional step in how to make crepes, but it guarantees the crepe won't stick and it adds a little crispy something to the finished product.
9. Use a ladle. You will soon see how far to fill the ladle to have just enough batter to fill the bottom of the pan. You will get very consistently sized crepes with this method. Quickly swirl the pan around to evenly coat the bottom.
10. Accept failure. There is a certain philosophical approach to how to make crepes. Expect the first one to back fire. That's because you have to get the pan at the right temperature and the pan needs to be seasoned a bit. Most people don't get it hot enough for the first crepe, but don't go too hot or you'll burn the crepe before it cooks through. In France, it is common to say la première, c'est pour le chien - the first one is for the dog. Just scrape it out and keep going.
11. Cooking. Cook the crepe on one side just until it is cooked through and the edges are barely starting to brown, then flip it with a spatula to cook for another 15 seconds or so.
12. Storing. Stack the crepes one on top of the other as you are cooking. If you want to keep them warm, cover them with a dish towel. You can also wrap them in aluminum foil and keep them warm in the oven or store them in the refrigerator for several days until you are ready to use them.
Finally, the very best way to learn how to make crepes is just get in the kitchen and start.
New!

Comments

Have your say about what you just read! Leave me a comment in the box below.