Easy Pork Roast
Here is a very easy pork roast recipe that gives absolutely delicious and succulent results. No more dried out pork loin with this recipe.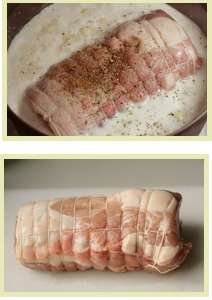 Pork Cooked in Milk
You'll be amazed how tender pork becomes when cooked in milk. The resulting sauce in this recipe is less rich then many French sauces, but just as creamy and good as higher calorie sauces.
The only drawback to cooking a pork loin roast in milk on the stovetop is the clean up. I used my Dutch oven and had to soak it for a while (which supposedly isn't good for cast iron cookware) to get all of the dried milk residue off. I don't know how to avoid this.
The rest of this recipe is so simple though that a little extra clean up doesn't seem like much bother. Do allow plenty of time for the roast to cook slowly and completely - about 1 1/2 hours for a 2 1/2 pound roast. You may want to cook it longer as there is little risk of drying out the roast using this method.
I recommend you start cooking this easy pork roast at least 2 hours before you want to serve to allow time to prepare the sauce. Try serving this easy pork roast with oven roasted potatoes and carrots (or try this glazed carrots recipe) - you'll want an excuse to pour more of the yummy sauce on your plate.
Rôti de porc au lait
Preparation Time: 15 minutes
Cooking Time: 90 minutes
Makes 6 - 8 servings
Ingredients
2 1/2 pound pork loin roast
about 1 quart of milk
1/2 teaspoon salt
1/2 teaspoon pepper
pinch of nutmeg
12 cloves garlic, peeled
3 slices white bread, crusts removed
Directions
Place the pork loin roast in a sturdy pot that allows just enough room to easily turn it. Pour in milk to a level that covers 3/4 of the roast. Sprinkle with salt, pepper and nutmeg. Add peeled garlic cloves. Turn the roast over in the pot.
Place the pot on medium heat and bring to a boil. Reduce heat so that milk is just barely boiling and place the lid on the pot leaving a small opening. Simmer at this very low boil for 1 1/2 hours or until the roast is cooked through. Turn the roast several times during the cooking.
When it is done cooking, remove the roast from the pan and cover the meat to keep it warm.
Fish out the cloves of garlic from the cooking liquid and strain the rest of the liquid into a blender. Add the cloves of garlic and the bread to the blender and then blend until smooth. Season to taste with salt and pepper. You may want to return the sauce to the stove (in a clean pan) for a few minutes to thicken it further.
To serve, slice pork roast and pour sauce on top.
Variations
Sheri, a reader of EFF, had some excellent suggestions for making this easy pork roast even tastier:
"Tonight I made your recipe for Roti de porc au lait. What a fabulous awakening!!! We think it is the best preparation and presentation for an otherwise tired, dull tasting pork roast.
I must admit, I made one mistake and one addition. The mistake was I poured about 12 ounces of cream into the roast pan before I remembered I was supposed to be using milk so I ended up with a half and half - extremely good in the end. Second, after pureeing the sauce with the garlic and bread in a blender, I made a fast, fairly hot saute of sliced mushrooms in the roast pan and then added the blended sauce and heated it until thickened. I did add some dried Savory to season this resulting sauce and it was delicious!!!
The pork was moist, succulent and memorable with every forkful. The sauce was flavorful, full bodied and enticing. We will certainly replace almost ALL other methods of preparing pork loin roast with this one and probably vary the contents of the sauce with savory additions to the roasted milk - most likely herb based. "
New!

Comments

Have your say about what you just read! Leave me a comment in the box below.