Cooking Classes in Provence
Madeleine Montabert offers cooking classes in Provence that emphasize traditional French home cuisine. What a lovely introduction to the simmple pleasures of French cooking at its best.
Where do the classes take place?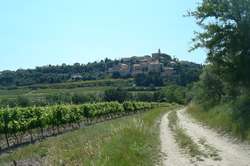 Crillon-le-Brave
Courses take place in Crillon-le-Brave, a small hilltop village located about 25 miles northeast of Avignon in the heart of Provence between the villages of Bedoin and Caromb.
In the book entitled 1,000 Places to See Before You Die, Patricia Shultz writes:
"Crillon-le-Brave is out of the loop, a tranquil spot far from any hubbub, though a roster of tempting day trips might succeed in luring you away."
To sum up, the classes take place in a picturesque little village with lovely stonework houses dominating the neighbouring countryside and affording a superb view of Mont Ventoux.
Who teaches the classes?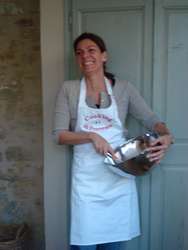 Madeleine
Madeleine Montabert is a veteran native French cook. She had the good fortune to be born in the 1950's in Lyon, a city that the famous gastronomist Maurice-Edmond Sailland, nicknamed Curnonsky, claimed to be the "gastronomic capital of the world". At a very young age, Madeleine was initiated in the subtleties of traditional French cooking. Once a week, her family made it a habit to dine in the best restaurants in the land. Incidentally, this gave Madeleine the opportunity to experience most of the restaurants visited by Julia Child, even in the French Riviera area.
Moreover, Madeleine's father struck up a friendship with several of the most famous chefs of that time and most of them regularly visited her home on special family occasions. This exposure prompted her to learn traditional French recipes with the professional cook employed at her parents' home. Later, she began to cook more and more, rediscovering and sharing traditional French tastes, tips and recipes as globalization began to fade them away.
Now, after a lifetime of cooking, Madeleine enjoys preserving and sharing French traditions, which have been handed down from generation to generation.
What cuisine and cooking techniques are emphasized in the classes?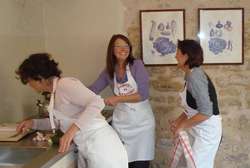 Cooking in Provence
The cooking classes in Provence are aimed at teaching French home cooking, which is the basis of the traditional French way of life. For it is the choice of foods that determine health, wellbeing and quality of life. All the food is prepared with local seasonal ingredients and considerable attention is paid to create nutritionally balanced menus. Many tips are provided to help make French cooking inexpensive and easy.
Traditional French cooking has very tangible rewards that are produced in a short time period. Perhaps this is why so many French people of all ages like to cook. The hands-on class is based on easy genuine recipes aimed to definitely inspire students to try French cooking at home and to make cooking a pleasurable experience.
The small class size (less than six students) allows all questions to be answered, as well as providing careful supervision in a relaxed atmosphere. This means that everybody can go back to his or her own kitchen and recreate the recipes to share with friends and family.
The classes are an entertaining way to experience the French way of life.
When do classes take place?
From April to October, the half-day hands-on class lasts about three hours. The meal, a three course repas à la française, is then served around the table and shared by all. Participants are given copies of all of the recipes so they can try French cooking at home!
For more details and to sign up for classes, please visit Cooking in Provence.
Return to French cooking schools and classes.