Choux Pastry Recipe
Use this choux pastry recipe as a starting point for making a variety of French pastries. The dough is very easy to make provided you follow a few simple directions.
Recipe Notes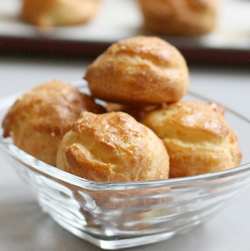 Choux Based French Pastries
This basic pastry dough can be used to make any number of delicious tidbits - from choux pastry appetizers to entrees and on through to desserts. You can stuff choux puffs with any filling you wish, sweet or savory, hot or cold. Popular interpretations include:
Gougères

- These are basically cheese puffs with a lovely French name. They are frequently served as a warm appetizer, but might also be served as an entree with a green salad. Cheese puff recipe.

Cream Puff Desserts

- If you fill a choux puff with sweetened whip cream, you get a cream puff. Of course French chefs haven't stopped there. Profiteroles, Saint Honoré, and croqembouche are just a few examples of cream puff desserts.

Eclairs

- This is a very popular use for choux pastry in France. The dough is piped into logs, baked, then filled with pastry cream and topped with icing. Chocolate eclair recipe.
Why Choux Pastry Might Fail
Incorrect amount of egg. The proportion of egg needs to be fairly consistent. The recipe here calls for four medium eggs. If you use larger eggs, you may only need to use three. Or you may need to beat a fourth one and add just part of it to the batter. The final consistency of the batter should be very thick and pasty.
Insufficient beating. The eggs must be gradually and vigorously incorporated into the paste. This requires a strong arm and a little patience.
Insufficient baking. Pastries made from this recipe will deflate if they are not cooked long enough. The puffed up pastry should be brown all over when cooked (no cream colored patches). Larger puffs, of course, take longer to cook. To avoid burning larger puffs, the oven temperature is lowered about half way through baking.
Storing and Freezing
To get good puffy results, this pastry dough should be formed and baked as soon as it is made and still warm. At any rate there is little interest in making it ahead of time as it really does go together very quickly.
Once they are cooked, allow the pastries to completely cool before wrapping them in plastic. They can then be stored at room temperature and served later in the day. They can be refrigerated for several days, but they will no longer be crispy on the outside. Choux pastry shells can also be frozen. To defrost, place frozen shells in a 425°F (210°C) oven for three or four minutes.
A Little History
It seems that culinary history is never clear. Many references I could find credit the invention of choux paste to an Italian chef working for the queen of France, Catherine de Médicis (1519-1589). However, there seems to be some disagreement over his name. Was it Popelini or Panterelli?
There is also disagreement over how the dough itself got its name. Some say the dough was first called pâte à chaud (warm dough) which then changed to pâte à choux. Others say it was called pâte à choux because the resulting puffs resemble little cabbages (choux).
A vous de choisir!