Choux Pastry Recipe
Use this choux pastry recipe as a starting point for making a variety of French pastries. The dough is very easy to make provided you follow a few simple directions.
Recipe Notes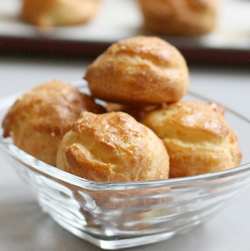 Choux Based French Pastries
This basic pastry dough can be used to make any number of delicious tidbits - from choux pastry appetizers to entrees and on through to desserts. You can stuff choux puffs with any filling you wish, sweet or savory, hot or cold. Popular interpretations include:
Gougères

- These are basically cheese puffs with a lovely French name. They are frequently served as a warm appetizer, but might also be served as an entree with a green salad. Cheese puff recipe.

Cream Puff Desserts

- If you fill a choux puff with sweetened whip cream, you get a cream puff. Of course French chefs haven't stopped there. Profiteroles, Saint Honoré, and croqembouche are just a few examples of cream puff desserts.

Eclairs

- This is a very popular use for choux pastry in France. The dough is piped into logs, baked, then filled with pastry cream and topped with icing. Chocolate eclair recipe.
Why Choux Pastry Might Fail
Incorrect amount of egg. The proportion of egg needs to be fairly consistent. The recipe here calls for four medium eggs. If you use larger eggs, you may only need to use three. Or you may need to beat a fourth one and add just part of it to the batter. The final consistency of the batter should be very thick and pasty.
Insufficient beating. The eggs must be gradually and vigorously incorporated into the paste. This requires a strong arm and a little patience.
Insufficient baking. Pastries made from this recipe will deflate if they are not cooked long enough. The puffed up pastry should be brown all over when cooked (no cream colored patches). Larger puffs, of course, take longer to cook. To avoid burning larger puffs, the oven temperature is lowered about half way through baking.
Storing and Freezing
To get good puffy results, this pastry dough should be formed and baked as soon as it is made and still warm. At any rate there is little interest in making it ahead of time as it really does go together very quickly.
Once they are cooked, allow the pastries to completely cool before wrapping them in plastic. They can then be stored at room temperature and served later in the day. They can be refrigerated for several days, but they will no longer be crispy on the outside. Choux pastry shells can also be frozen. To defrost, place frozen shells in a 425°F (210°C) oven for three or four minutes.
Choux Pastry
Pâte à choux (Pat ah shoe)
Prep time: 30 minutes your first try, 20 minutes with practice
Bake time: 20 to 35 minutes (depending on size of the pastry)
This makes about 2 cups of choux paste, good for 40 small puffs or 12 larger ones.
Ingredients
1 cup water
6 tablespoons butter, cut in 6 pieces
1 teaspoon sugar
1/2 teaspoon salt
1 cup all-purpose flour
4 medium eggs
1 beaten egg (optional)
Directions
Preheat the oven to 425°F (210°C).
Place the water, butter, sugar and salt in a medium sized saucepan and place on medium heat. Remove from heat as soon as the butter has melted and the water is boiling.
Using a wooden spoon, stir in all of the flour at once. Mix for at least two minutes and until the mixture is smooth, detaches from the sides of the pan, and forms a ball. The residual heat of the pan dries the dough as you are stirring.
Add one egg and beat the mixture vigorously with a wooden spoon until the egg is fully incorporated. Add the other three eggs, one at a time, in the same fashion. Each egg takes about a minute to be absorbed into the batter.
You can use a pastry bag to form the pastries, or work with two spoons (one to scoop the batter and the other to slide it off the first spoon onto the tray). If you use a pastry bag, a 1/2 inch diameter tip is good for small puffs and a 3/4 inch diameter tip is good for large puffs. When forming the puffs, keep in mind that each one will at least double in size in all directions.
Scoop or pipe the puffs onto a baking tray covered with parchment cooking paper. If you wish, use a pastry brush to lightly coat the tops of the puffs with beaten egg. This will give the puffs a lovely shiny and slightly crunchy finish.
For small puffs, bake at 425°F (210°C) for 20 minutes. For larger puffs, after 20 minutes of baking, lower the oven temperature to 375° F (190°C), and bake 10 to 15 minutes longer. To insure that the inside of the choux pastry does not get soggy after baking, pierce each puff and return the tray to the oven that has been turned off. Leave them in the oven with the door ajar for 10 minutes.
A Little History
It seems that culinary history is never clear. Many references I could find credit the invention of choux paste to an Italian chef working for the queen of France, Catherine de Médicis (1519-1589). However, there seems to be some disagreement over his name. Was it Popelini or Panterelli?
There is also disagreement over how the dough itself got its name. Some say the dough was first called pâte à chaud (warm dough) which then changed to pâte à choux. Others say it was called pâte à choux because the resulting puffs resemble little cabbages (choux).
A vous de choisir!
New!

Comments

Have your say about what you just read! Leave me a comment in the box below.