French Fry Cutter
A good French fry cutter or potato slicer can be a great time saver when preparing homemade French fries and other potato recipes. Here are some tips for choosing the one that is right for your needs.
Basic Fry Cutter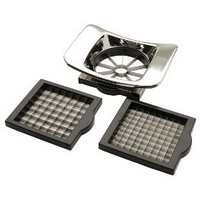 MIU Potato and Apple Slicer
If you were so lucky as to get homemade French fries when you were little, you might remember your mom struggling with this simple potato cutter.
The best way to use this is to slice an end off of the potato so that it easily balances on the cutting board. I would also recommend trying this on a lower counter so you can take full advantage of your pectorals. You will need them to push this thing through a potato.
I would recommend this cutter if you are not going to make French fries too often and you don't mind a little work out in the kitchen. Very reliable and not expensive.
Plastic French Fry Slicer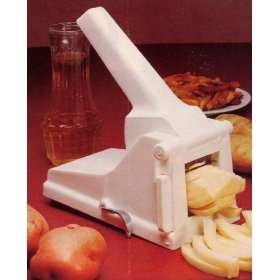 Plastic Cutter
This is the sort of plastic French fry cutter that I use. I was very disappointed with the performance of this machine when I first bought it and was on the verge of throwing it away. Fortunately, persistence paid off and by using the machine correctly, I learned to easily and quickly produce a lot of French fries with this.
The key is to not over load the chute which causes it to block and your face to turn red with frustration. Only load in slender potatoes or simply cut hefty tubers in two. It also helps to peel the potatoes.
Wondering if you can use this to make sweet potato fries? I would not recommend it. The sweet potato is a sturdy fellow and you may end up breaking the slicer - it is, after all, made mostly of plastic.
Deluxe French Fry Cutter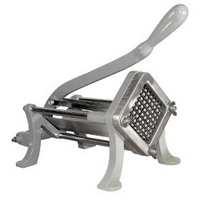 Deluxe Cutter
This is the one to buy if you are a serious French fry cook. People actually use this deluxe mode to slice other vegetables as well, such as onions.
Its sturdy metal construction means less effort for you. It still requires some force and you may prefer to find a model that can clamp down to your work surface. You can also purchase serparately little rubber suction cup feet that will help stabilize the unit and make it easier to work with.
Potato Slicer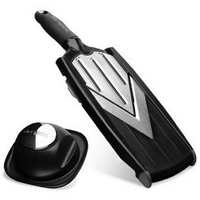 Mandoline Slicer
Many recipes, like pommes sautées and scalloped potatoes, call for thin slices of potatoes. If you own a food processor, have a look at the attachments. You may find that you are already equipped to make the thin slices of potatoes you need for these recipes.
If you are looking for super thin slices, like what is needed to make homemade potato chips, consider buying a mandoline. These can be tricky to learn to use and mistakes can be unpleasant. They are extraordinarily sharp which is what makes them so effective, but it is also what makes them so dangerous.
I recommend the mandoline slicer made by Microplane. It is fairly simple to learn to use and gets a lot of good customer reviews. The width of the cut is adjustable from so-called "paper thin" to 1/4 inch, and you can use the mandoline to slice all sorts of vegetables, not just potatoes.
Return from French fry cutter to cooking tools.