Poutine
by Ryan
(Canada)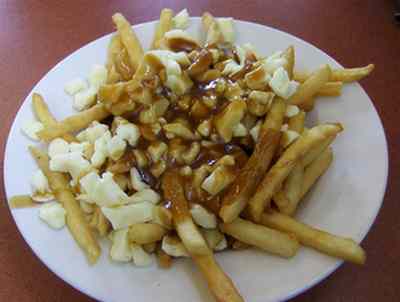 Poutine
Question: Is poutine popular in France or only in Canada?

Answer: Hi Ryan, Thanks for writing to me with your question.

Poutine is most definitely a Quebecois dish and very few people in France probably even know it exists. As you may already know, this caloric giant features a plate of French fries, topped with fresh cheese curds and gravy. Variations on the basic dish are endless. You will find Mexican, Italian, Chinese and Greek inspired versions. The one constant seems to be the French fries that form the basis.

Predictably, the exact origin of this very popular Canadian creation is contested (just like the history of French fries gets debated). It first appeared in the 1950's and there are several towns and restaurants n Quebec that would like be recognized as the first to have served it up.

If you feel like trying your hand at cooking poutine, it can easily be created at home. Begin by frying medium cut French fries (frozen pre cut fries work great) in peanut oil. Top with cheese curds (I've heard Mozzarella cheese can be a good substitute) and hot gravy. Serve piping hot.

Watch out - you will want to be plenty hungry before attacking a dish as serious as this one.

Hope that helps you in your project, and be sure to have a look at some of the other pages on EFF if you are interested in learning more about French cooking.

Kim

Photo by Joe Shlabotnik.