French Food, Easy French Recipes and Fun!
Is there any such thing as easy French food? Of course!
French recipes are not all complicated. In fact most of the cooking that goes on day-to-day in a typical kitchen in France is quite simple. There are no special techniques for you to master to produce mouth watering appetizers, satisfying main courses, or luscious desserts.
Easier Than You Think
French food isn't just escargot, crepes, foie gras and coq au vin. With the easy recipes, techniques and pictures you find here, you can learn to eat like they do in France by:
Choosing the best ingredients
Preparing elegant French foods with little hassle
Learning some of the names and history behind the food
Aiming for balance in your overall meal plan
And most importantly sitting down to eat with good company and a joyful attitude, a very important aspect of food culture in France.
On Easy French Food you will find a large selection of easy recipes that emphasize quality, healthy ingredients. Some people love the fussiness of haute cuisine, but maybe you don't have the time or inclination to use five pots to prepare one sauce.
Get all of the oo-la-la without all of the mess and save yourself a few calories along the way.
In the process of making these French recipes easy for you, I've eliminated some of the fat that just isn't needed (half a pound of butter to cook one chicken is surely a bit overboard). I can't promise you that it is all fat free - it just wouldn't be French cooking if it was.
However, good French cooking definitely emphasizes healthy eating.
An unexpected plus of adapting French food to your busy lifestyle is that it may help you stay slender! It is remarkable that in France the majority of people do not have problems with their weight. How do they do that?
The secret I believe is that they ENJOY their food. Why not you?
French Foods

French Cheese
Once you get a taste for this stuff, you will never want to turn back: Roquefort, Cantal, Neufchatel, Meunster, Comté, and on and on.

French Wine, Champagne and Liqueurs
An introduction to wine, champagne and liqueurs to help guide you through your own taste experiences.

Regional Specialities
With so many regional specialties, learning about French food is a never ending process. Take a gastronomic tour around France.

Famous French Food
Learn about the most popular foods in France including foie gras, duck confit, Camembert cheese and many other famous foods.

French Desserts
Learn about the most popular foods in France including foie gras, duck confit, Camembert cheese and many other famous foods.

Your French Food Questions
If you have a particular question about French food or a recipe, you can ask me here.
French Recipes

Sauce Recipes
Get started cooking with these classic sauces, such as beurre blanc, bearnaise, hollandaise, soubise, rémoulade, and aioli might stand on their own or be part of a recipe. Dessert sauces are included too.

French Entrees
In France, the starter course is called an entrée. It is an essential step in most dinners, even the most casual. Learn how to make, present, and serve entrees in balance with the rest of your meal.
Quiche Recipes
Classic French tarts like quiche Lorraine, but also spinach, broccoli, cheese, crab, salmon and zucchini. Quiche makes the perfect food a starter course, main meal, or for taking on a picnic.

Easy Salad Recipes
Many of these easy salads can serve either as a starter or be made in a larger quantity and eaten as a main course. Serve these with a baguette like they do here in France.

Easy Soup Recipes
Here you will onion soup of course, but also crème du Barry, carrot, potage Saint Germain, potato leek and others. These might be served as a starter course or even a main dish in France.

Easy Vegetable Recipes
The key to these easy vegetable dishes (and all French food for that matter) is to start with the absolute tastiest vegetables you can get your hands on. Cook what is in season with these easy dishes.

Potato Recipes
There are so many ways to cook a potato it boggles the brain. Here you will find oven baked fries, garlic mashed potatoes, aligot, hot potato salad and more.

French Seafood Recipes
These seafood and fish dishes feature mussels, salmon, scallops and more. You will find them used to make gratins, papillotes, and chowders, as well as in simpler preparations: poached, baked and fried.

French Chicken Recipes
Like many places in the world, chicken is a very popular meat in France. Learn how to make such classics as chicken cordon bleu, chicken marengo, and chicken Dijon.

Easy Beef Recipes
Find easy recipes for French food classics like boeuf Bourguignon, boeuf aux carottes, daube, and hachis Parmentier. These all make great main dishes.

Easy Pork Recipes
Pork is a very popular meat in France. It gets made into an incredible array of sausages, and pork chops, loins, and tenderloins are used all the time. Find some easy ways to fix these meats.

Fruit Dessert Recipes
Fruit gets top billing in many desserts in France. By starting with peak seasonal produce, and making these simple tarts, mousses, and cakes, you will be sure to please yourself and others.

French Cake Recipes
These include classic cakes, such as a baba au rhum, moelleux au chocolat, and a galette de rois. I am not a big fan of washing a half dozen mixing bowls, so these are mostly quick and easy cakes.

French Pastry Recipes
Learn the basic preparations that go into making a variety of pastries, including choux, pâte brisée, and pastry cream. Some of these may be a little harder, but I have tried to give detailed instructions.

French Cookie Recipes
These might seem a bit elaborate, but I have stuck to the simple ones. Try chouquettes, madeleines, meringues and more.

Crepe Recipes
Learn some tips that will make crepes an easy and fun project. In France, crepes are made into all sorts of yummy treats - both sweet and savory.

Easy Recipes for Kids
Let your kids loose in the kitchen with this tried and true recipe collection designed just for them. Having children cook their meal is a great way to get them excited about their food.
French Cooking

French Cooking Schools
What better place to learn about French cooking than in France? Here is a list of schools, classes and vacations that make learning easy.

French Cookware
There are many fine cookware manufacturers in France and their equipment is, of course, good for all styles of cooking. There are also some special items that most kitchens in France would not be without.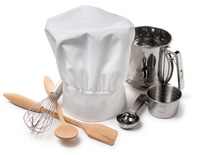 Cooking Tools
A few odds and ends that can really make your job in the kitchen easier. Who can resist a time saving kitchen gadget? Not me!

Gourmet Cooking Supplies
Here you will find some of the more unusual ingredients that you might need for creating French food. Everything from champagne vinegar to crystalized violets. A fun place just to browse.

French Cooking Terms
Here is a great resource if you are trying to decipher a French recipe or if you just want to expand on your vocabulary.

Basic Cooking Tips
Sometimes you might need to know a special food technique to get a desired effect. These tips are nothing original, but may come in handy for some beginning cooks.
French Culture
French Traditions
The traditions and customs of France are fun to learn about, especially when there is a tasty meal involved. And everyone knows that France is a culture built around good food.

French Decor
Learn some ways to add a touch of France to your dining table or kitchen. Includes some poster collections, centerpiece ideas, and a set of free downloadable spice jar labels.