Call for help -- I have never made French bread because buying a daily baguette at the boulangerie is part of living in France, but I know that some of you have enjoyed good results with your home baking efforts. If you have any French bread baking tips you'd like to share with readers, we'd love to hear from you. Share your thoughts about making French bread.
---
History of a Tart
You may already know that tarts are very popular here in France. A bit different then a pie, a tart usually features a thinner layer of ingredients and bakes a bit quicker. Every French home cook knows how to whip up a tasty tart and variations on ingredients are infinite.
Normally a tart is made by blind baking a pastry crust (which can be either a puff pastry or a pate brise), then adding a layer of ingredients before baking again for 20 minutes or so.
But the Tarte Tatin is different. She is made upside down.
Legend has it that more then a century ago in the village of Lamotte-Beuvron in the heavily forested region of Sologne, the Tatin sisters, Caroline and Stephanie, ran a popular restaurant. The young women catered to a hunter crowd and one can imagine that their popularity wasn't just because of the food they served.
One morning, one of the Tatin sisters had her mind elsewhere (we are supposed to imagine her flirting with one of her clients here) and popped an apple tart in the oven to bake. Somewhat later she spied the crust sitting on the kitchen table and realized she had forgotten to line her pan.
Being an enterprising sort of gal, Mademoiselle Tatin opened the oven and placed the crust on top of the baking apples. Later when her tart was done, she simply flipped it over and served it --
La Tarte Tatin was officially born!
Variations on the original apple tart Tatin have come into vogue recently. Essentially you can make any sort of tart this way, if you bear in mind a few tips:
Expect the entire tart, including the crust, to be somewhat moister then a tart baked in the traditional manner.
Try making these tarts with both sweet and savory fillings.
If using store bought pastry (I do), buy high quality, uncooked pastry.
Butter or oil the bottom of the pan well to insure good release of ingredients.
Avoid using cheese as a first layer which may end up adhering to the dish.
Turn your tart over while it is still warm to prevent it from sticking.
You can reheat the tart after you have removed it from the pan in a hot oven.
---
Tarte tatin aux aubergines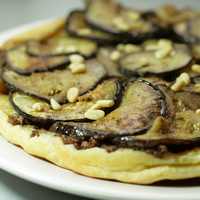 Tarte tatin aux legumes varies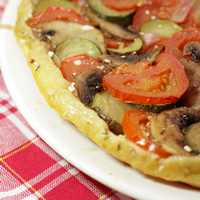 Tarte tatin aux abricots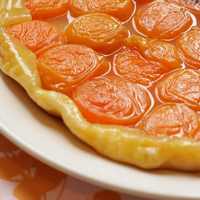 Learn more about
---
Next Issue:
Hope you enjoy making and eating at least one Tarte Tatin this month. Thanks so much for spending some time with me. In the next issue, due out on August 27th: Grand Marnier Recipes.
If you're receiving this newsletter because a friend forwarded it to you, you can sign up for your own copy of La Marmite: Subscribe to La Marmite.
A bientot and remember to enjoy your food!
Your friend in France,
Kim