French Fruits and Summer Recipes
Issue #21, July 28, 2010
Bonjour et bienvenue to a celebration of French fruits and summer recipes!
Part of the enjoyment of French fruits and vegetables comes from recognizing and appreciating different prized varieties. Starting in early spring and lasting through the end of summer, one can take a delicious taste tour of France, simply by visiting the produce market. Here are a few highlights and some ideas for using fruit as an ingredient in French recipes.

---
Strawberries - Les Fraises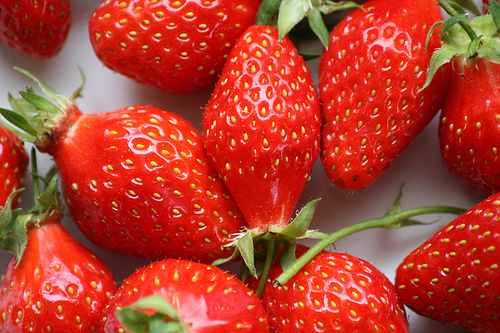 Les Gariguettes
Photographed by
Knon
.
Special Mention: La Gariguette
The fair weather fruit season in France starts early in April with the appearance of the first strawberries. La gariguette, an elongated orangey colored strawberry, is perhaps the most prized of these early French fruits. They are highly reputed for their marvelous odor and perfect balance of sweet and tart flavors. They are a delicate fruit, reminiscent of wild strawberries. At their best they are still firm to the touch, but dissolve easily into juicy yumminess in your mouth. Gariguettes really are best enjoyed just as they are.
Strawberries in French Cooking
Flavor Combinations
Try a sprinkle of freshly ground pepper on your next strawberry. People are nutty for this taste combination, saying the pepper really brings out the strawberry's flavor. Balsamic vinegar is also frequently combined with strawberries.

---
Plums - Les Prunes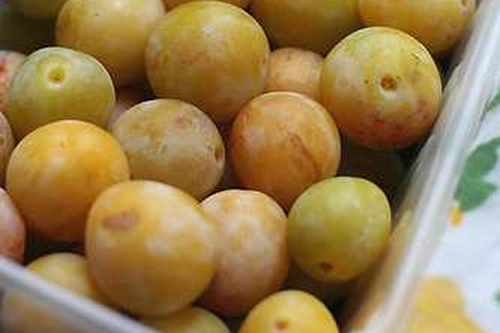 Mirabelles
Photographed by Rowena of
Rubber Slippers in Italy
.
Special Mention: Mirabelle de Lorraine
This golden round plum is emblematic of the Lorraine region of France, where soil and weather conditions are ideal for their cultivation. Their small size and amazingly sweet and juicy flavor, encourages you to eat one after another.
Uses in French Cooking
Flavor Combinations
Try adding a sprinkle of cardamom, ginger, cloves or black pepper to baked plum recipes.

---
Cherries - Les Cerises
Special Mention: La cerise de Montmorency
Although this tart cooking cherry is now grown extensively in North America, it owes its name to France, where it was once heavily cultivated along the edge of the Montmorency forest just south of Paris. It is still perhaps the most popular cooking cherry in France, and cooks swear by it for making the best tarts and clafoutis.
Uses in French Cooking
---
Melons - Les Melons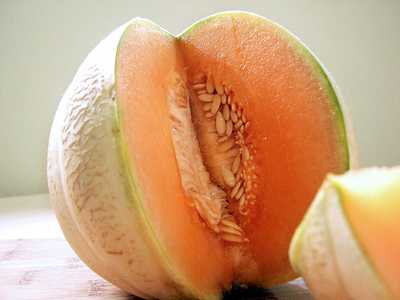 Melon Charentais
Photographed by
A Bird in the Kitchen
.
Special Mention: Melon Charentais
Similar in taste to a North American cantaloupe, the Charentais melon differs in that its skin is mostly smooth. Although the department of Charente certainly produces these melons, the truth is that in France much of the melon is imported, mostly from North Africa. There is, however, a prized variety called a melon Charentais jaune or yellow Charentais melon, that is nearly exclusively grown in France. A ripe Charentais melon is juicy and very sweet with a distinct musky aroma.
Uses in French Cuisine
---
Ask a French Food Question
Many readers have written to me with some great questions about French food and cooking. If you have a question of your own, submit it here and I will try to respond on Easy French Food.

---
Next Issue:
That's it for French fruits and summer recipes, so until next month kind readers I wish you happy cooking and great eating.
For the next issue, due out in early September: celebrate back to school with some French recipes specially created with kids in mind.
If you are receiving this newsletter because a friend forwarded it to you, you can sign up for your own copy of La Marmite: Subscribe to La Marmite.
You can contact me here if you wish or sign up for the EFF RSS feed here (it keeps you updated on everything I add to the website).
A bientôt and remember to enjoy your food!
Your friend in France,
Kim
Go from French Fruits to La Marmite Back Issues