Bonjour,



Well, I promised strawberries, but we are already in the heat of summer and there is so much more fruit to choose from. Fruit, fruit everywhere I look, there is fruit.

So I thought we should expand the topic a little to include all the friends of the strawberry as well. Les fruits rouges, or red fruits, are a special category of fruits in France. Can you guess who is on the list?

If you guessed tomatoes, apples or grapes . . . vous etes trompes (you guessed wrong)!

Actually, it was a bit of a tricky question, because les fruits rouges are not even all red. They are all small, summer fruits and I believe another common characteristic is that you will find wild versions for each one. They include: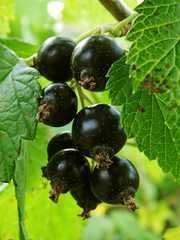 Black Currants
Cassis - Black Currants
Cerises - Cherries
Fraises - Strawberries
Framboises - Raspberries
Groseilles - Red Currants
Mures - Blackberries
Myrtilles - Blueberries
How to Enjoy Les Fruits Rouge
So what can we do with this group of friends? Here are some ideas:
Au nature: Of course, they taste great just as they are or maybe if you wish with a small sprinkle of sugar. I must confess that this is the fate of most fruit that arrives chez nous, and some of it doesn't make it that far. Stopping at roadside stands and then gorging in the car does occur.
Scantily clad: Try one of these flavor enhancers with your next bag of fresh red fruit: a squirt of lemon juice, a little orange flower water or even rose water, fresh mint, basil (especially nice with strawberries).
Confiture, gelee: If you are handy at making jam or jelly, all of these fruits are good candidates for your jars. In France, it is quite typical to find several from the list combined to make confiture de fruits rouges.
Sorbets, smoothies: Yes smoothies have hit France as well. So easy to make. Just freeze ripe fruit, including perhaps a banana for extra thickness, then whip together in a high speed blender with your liquid of choice. We love coconut milk whipped together with frozen berries and bananas.
Soupe: Make a simple dessert soup by heating rose wine with lemon juice, a sprig of thyme, honey and some water. Bring to a simmer then remove from heat. Pour on top of cleaned and hulled fruit and chill until serving time.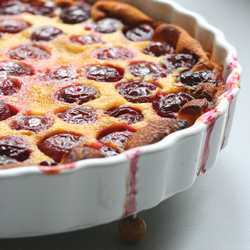 Cherry Clafoutis
Clafoutis: This is the go to dessert when you have an abundance of any sort of fresh ripe fruit. Basically you just cover fruit with a custard like batter and bake until done.
Compote: If what is for sale in my grocery store is any indication, the French love their compote Making your own could not be simpler. Just simmer clean, hulled fruit with some sugar and perhaps a small amount of water (may be unnecessary) until the fruit is soft. You can then blend it and strain it or just leave it lumpy.
Plus complique: French pastry and dessert chefs of course love all the fresh fruit too. So in France, look for these gorgeous treats often featuring les fruits rouges:
Fontainebleau - This is fresh cheese that is whipped with whipping cream and topped with fruit.
Bavarois - A cream dessert set with gelatin.
Mille Feuilles - Classically this is made with layers of puff pastry alternating with something creamy and good. These days just about anything delicious gets used for the layers and the filling.
Vacherin Glace - A cake made from a layer of baked meringue topped with ice cream, whipped cream, and fruits.
In savory dishes: Pair these fruit with chicken, pork, duck, foie gras or game meats. Duck with cherries is a classic and dreamy combination.
And don't forget that these fruits are friends! They taste great and look great when combined with each other.
Recipes with Les Fruits Rouges
Here are some of the recipes you can find on Easy French Food that make good use of les fruits rouges:

Note to my fateful readers, many of who are so kind as to drop me a line from time to time: I do apologize for being so erratic with La Marmite. Running a website offers one a myriad of possibilities and I find myself going down many different paths, all of them time consuming! I have good news though for those of you who like to access the internet through your smartphone or other portable device - Easy French Food is now mobile friendly! So if you get a chance, have a look and let me know if you like the result:

A bientot!

Your friend in France,

Kim

PS - As always, please excuse that there are no accents on the French words - I still haven't figured out how to get them to display correctly in an email!