Basque Food and Recipes
Issue #20, June 3rd, 2010
Bonjour et bienvenue au Pays basque!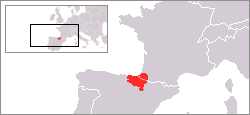 Basque Country (Wikipedia Image)
The Basque region covers a small part of south west France as well as a portion of northern Spain. The region has a distinct culture and culinary tradition that ignores any modern political boundaries. The cooking of this region is truly a riotous mix of local fresh ingredients, and the creativity of native chefs has only grown with time. If you travel to the Basque country, expect to eat well and expect to be surprised.
For this issue of La Marmite though, I will stick to a more traditional menu:
Appetizers à la plancha
Txakoli wine
°°°
Pipérade omelet
°°°
Ossau-Iraty cheese
Fresh fruit
°°°
Gâteau basque
---
La Plancha
The plancha is a large, sturdy metal plate that was originally used in Spain to grill foods over an open fire. In recent years, this cooking method has migrated north from the Basque region and has become common place all over France.
Popular twists on the original model include gas and electric planchas, which have made this style of cooking easily accessible to home cooks.
In France, tabletop models might be used as a centerpiece during an aperitif hour. Guests select and cook their choice of various bite sized portions of marinated meats, fish and vegetables. A possible theme is to stick with seafood: prawns, scallops, and calamari all cook wonderfully on a plancha, and would make a great start to a Basque inspired meal.
---
Discover Txakoli
Perfect with foods cooked à la plancha, txakoli is a fabulous warm summer evening wine, that has only recently garnered much attention.
This wine is produced in three distinct areas of the Basque region. None of these areas fall within the borders of France, but this wine is worth veering into foreign territory. Mostly made from Hondarribi Zuri grapes, it is slightly effervescent and decidedly refreshing.
Now is the time to seek out this wine, if you want to taste it while it is still a bargain. According to this article, its popularity and price are on the rise: Basque Wine Txakoli Flirts With Fame.
The one big tip I can give you about this wine is to drink it while it is young. It loses its sparkle with time.
---
Pipérade
A typical French Basque recipe, pipérade features bell peppers, onions, tomatoes, piment d'Espelette, and sometimes jambon de Bayonne.
Jambon de Bayonne: A speciality of the French Basque region, this raw cured ham is similar to its Spanish counterpart, Serrano ham. Flavorful and salty, it is typically sold in very thin slices. In this recipe, you can substitute any raw cured ham, such as prosciutto, and achieve similar results.
Piment d'Espelette
: These mildly spicy red peppers are grown in the area around the town of Espelette in the French part of the Basque region. Originating from Mexico, they are now protected by a French AOC (
appellation d'origine controlée
), which dictates amongst other things, how they can be sold. Sometimes, you might find Espelette peppers sold fresh, but it is more common to see them strung together on cords or sold in a powdered form. However they are sold, you should look for the AOC label as a guarantee of an authentic and quality product.
This recipe calls for powdered Espelette pepper. If you don't have that on hand, you can substitute either a hot or mild paprika depending on your taste.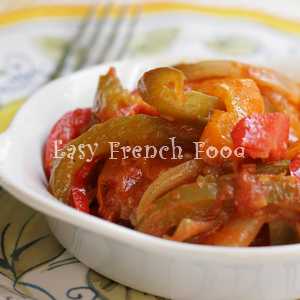 Pipérade basque
3 tablespoons olive oil
1 onion, peeled and sliced in slivers
2 cloves garlic, peeled and crushed
3 bell peppers (1 red, 1 green, 1 orange), seeded and cut in thin slices
2 tomatoes, peeled and diced
2 teaspoons piment d'Esplette powder (or substitute hot or mild paprika)
salt and pepper
optional: 2 ounces Bayonne ham (or substitute another raw cured ham), sliced in strips
Heat the olive oil in a large sturdy skillet on medium heat. Add the onions and garlic, and cook stirring frequently for five minutes.
Add the sliced bell peppers and cook stirring frequently for 15 minutes.
Stir in the diced tomatoes, piment d'Espelette, and salt and pepper to taste. Cook on low heat for 15 minutes or until the bell peppers are quite soft.
Stir in the the sliced ham and warm through.
Makes 4 servings.
Use this recipe as a topping for eggs cooked any sort of way (poached, omelet, or scrambled), or try serving it with rice or pasta.

Print Recipe
(Peeling tomatoes may seem fussy, but it is actually very easy. Simply drop whole tomatoes in a pot of simmering water for one minute and remove. When they are cool enough to handle, use a sharp paring knife to begin peeling, then just peel away. Peeled tomatoes blend more completely with whatever you are cooking.)
---
Ossau-Iraty Cheese
You may have heard of or even tasted this popular sheep's milk cheese, which is made both in the French Basque region and further east in the area of Béarn. It has an AOC label, which you should look for when purchasing.
Enjoy this uncooked, pressed cheese with fresh fruit such as pears, apples, or even cherries. A not-too-heavy red wine would make a great accompaniment, perhaps a Basque Rioja.
---
Gâteau Basque
The cuisine of the Basque region is not renowned for its desserts. Fruit is perhaps a more popular finish to a meal than anything else. However, there is one cake, known simply as a Basque cake, that you will find made all over the region.
Many times this cake will be filed with a thick pastry cream, but just as popular and some say more traditional, is the black cherry jam filling given here. Black cherries are proudly grown near Itxassou in the Basque region, but finding a jar of jam made from these cherries may prove difficult. No need to worry, whatever sort of quality black cherry jam you can find will make a fine substitute.
This is a hefty dessert. I noted it as 8 servings, but a smaller slice may be enough for more dainty appetites.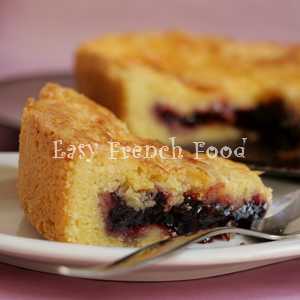 Gâteau basque
2 cups all purpose flour
1 cup unsalted butter, cut into small pieces (50 or so)
1 cup sugar
1 egg
3 egg yolks
1 teaspoon vanilla
1 teaspoon baking powder
1/2 teaspoon salt
1 jar black cherry jam
In a food processor (or just use your finger tips), blend together the flour, butter, sugar, egg, 2 of the egg yolks, vanilla, baking powder and salt just until dough starts forming and pulling away from the sides of the bowl.
Dump the dough onto a well floured surface and finish blending with your finger tips.
Divide the dough into 1/3 and 2/3 parts, wrap in plastic, and place in the refrigerator to chill at least 30 minutes.
Lightly butter a 9 inch cake pan. Use your finger tips to fit the larger portion of dough evenly into the bottom and slightly up the sides of the pan. Fill with the jam. On a floured surface, roll the other part of the dough into a 9 inch or so circle. Place this on top and pinch the edges closed. If it breaks a bit with handling, don't worry, just pinch and smooth it together. Make a pattern with the tines of a fork on the top of the cake if you wish.
Mix the remaining egg yolk with 1 tablespoon of water and brush the top of the cake with this.
Bake in a 350°F oven for 1/2 hour. Remove from oven and allow to cool. Remove from the pan and allow to completely cool before wrapping in plastic wrap (be careful not to break the cake while wrapping - it is crumbly). Allow to sit at room temperature at least one day before enjoying.
Makes 8 servings.

Print Recipe
---
What's New at EFF?
---
Next Issue:
That's it for the Basque Food issue, so until next month kind readers I wish you happy cooking and great eating.
For the next issue, due out in early July: French summer fruits.
If you're receiving this newsletter because a friend forwarded it to you, you can sign up for your own copy of La Marmite: Subscribe to La Marmite.
You can contact me here if you wish or sign up for the EFF RSS feed here (it keeps you updated on everything I add to the website).
A bientôt and remember to enjoy your food!
Your friend in France,
Kim
Go from French Guiana Recipes to La Marmite Back Issues