Bonjour et bienvenue to La Marmite!

This issue you will find just enough recipes to make a complete meal. Don't try to make them all at once. Remember, we are taking things slow and enjoying along the way.

---
Bonjour Happiness!
Flying in the face of the well-known adage, I would say that if you like the cover of this book, I think you will like the book itself.
---
Salmon Rillettes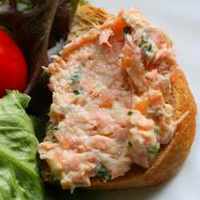 Rillettes (ree YET) are a very popular food in France and have been so for many centuries. Originally these meat spreads were made only from pork, which was cooked for a long time in its own fat. The finished product was then covered in a layer of fat which effectively preserved the rillettes for many months.

These days rillettes might be made from duck, goose, rabbit, or fish. The rillettes made from fish are a little different in that they are not cooked for a long time in fat.

For a simple introduction to this popular French food, try this Salmon Rillettes Recipe



---
Eggplant Au Gratin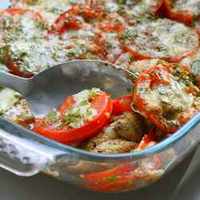 One simple way to adopt French cooking to your own personal style is to make vegetable au gratins. Most any vegetable tastes great when topped with a little high quality cheese. Anything that is baked gets points from me as it allows me a little break between fixing dinner and sitting down to eat.

If it is almost summer where you are, you may be swimming in eggplant, and tomatoes are at last back to tasting like tomatoes. This very simple side dish showcases both vegetables at their best, so now is the perfect time to try this fuss free Baked Eggplant Recipe.

---
Tarragon Chicken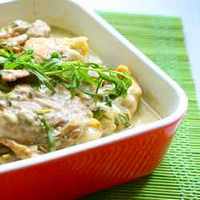 In France one can almost always find fresh tarragon available in the grocery store. This herb has a persistent licorice like taste that holds up well to cooking and marries well with chicken and fish.
Tarragon is one of the four fines herbes along with parsley, chervil, and chives. These herbs, when used together, are typically added at the end of cooking to preserve their flavor. Tarragon is exceptional in that it holds up well to cooking as in this Tarragon Chicken Recipe.
---
Financiers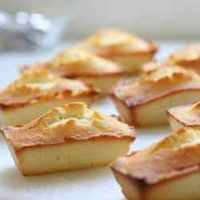 Well, I promised a French cookie journey and here is where we get started. Financiers are actually a bit more cake like than a cookie, but because they come in individual portions, I have classified them as a cookie.

The recipe here includes lots of ground almond meal and a little almond extract. The result is a dense flavorful cake that all the neighborhood kids gave a big thumbs up to. (I think I may have an unfair advantage in that they are comparing them to store bought financiers.)

Try to guess how they got their name before having a look at this Financier Recipe.



---
Order Homemade Cookies
Please allow me to introduce you to Tracy Treville. She is an expat living near Paris just like me. She has been making glorious batches of cookies and wonderful cakes for years and believe me the French people love her American style goodies.

Tracy has recently published a website that showcases her baked goods and gives you a chance to order them for yourself. I highly recommend Tracy's wares to anyone living in the area. Even if you don't live near Paris, do have a look at her website. It is worth a good drool: Tracy's Treats Gourmet Cookies and Brownies.



---
End Notes
I recently changed the look and feel of Easy French Food a little bit. I want to make it even easier for you to find the recipes and information you are looking for. If you have any comments or suggestions about the new look or about this newsletter, please feel free to contact me!

If you are receiving this newsletter because a friend forwarded it to you, you can sign up for your own copy of La Marmite: Subscribe to La Marmite.

A bientot and remember to enjoy your food!

Your friend in France,

Kim









New!

Comments

Have your say about what you just read! Leave me a comment in the box below.