Bonjour et bienvenue to the February issue of La Marmite.
Meilleurs voeux à tous pour la nouvelle année. Best wishes to all for the new year. May it bring you much joy, good health, and lots of great culinary adventures!
Tomorrow, February 2nd, is Chandeleur and many people in France will be eating crepes to celebrate. Most people will probably wait for the weekend though if they are planning on having a crepe party. Here are some ideas for throwing your own crepe party along with a recipe for chocolate crepes. Enjoy!
---
The Basics
Head on over to Easy French Food to learn the basics of crepe making. With just a little practice, it is easy to learn how to make crepes.
You will also find lots of ideas for crepe fillings and some detailed crepe recipes.
Once you have the basics down, you might like to try flipping the crepe with a one handed toss while holding a coin in your left hand. According to French folklore, anyone who succeeds at this feat will be guaranteed good fortune throughout the year. You could even make this into a party game and have guests try their hand at flipping their own crepe.
---
Crepe Presentation
Most people either roll or fold crepes around their favorite filling.
The Roll

The Fold

But don't stop there!

La Roulade

Spread your favorite filling on top of a crepe, then roll up and slice. This looks particularly nice with thicker fillings.



Le Millefeuille

Traditionally made with layers of crisp puff pastry, the millefeuille is frequently reinterpreted. Cut the crepes into quarters, then layer with something thick.

Les Cornets

Roll the crepes tighter on one end for just a little twist of visual interest.




Les Aumonières

This is supposed to look like a little money bag and works great for both sweet and savory crepes.

---
Chocolate Crepes
Of course you can make plain crepes and fill them with chocolate, but you can also add cocoa to crepe batter itself. The chocolate flavor in these is subtle and tastes best when complimented with a bright blast of sweet fruit - apricot jam is perfect.
By the way, I always make crepe batter with a hand mixer equipped with a whisk attachment. The batter comes out smooth with no effort and clean up is simple.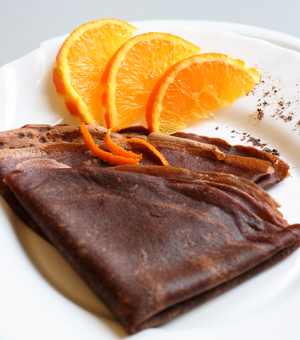 Pâte à crêpes au chocolat
3 large eggs
1/4 teaspoon salt
1 1/2 cups flour
2 cups milk and maybe a bit more
1/3 cup powdered sugar
1/3 cup dark, unsweetened cocoa powder
1 teaspoon vanilla extract
2 tablespoons oil
butter for cooking
Whisk the eggs with the salt. Pour the flour on top of the eggs, then about half of the milk and all the other ingredients. Begin whisking the batter and gradually add in the rest of the milk. Continue whisking until the batter is smooth.
At this point you have to decide if you should add more milk. The batter should be easy to pour and spread, but not so thin as milk.
Cover the batter and place in the refrigerator so it can be by itself for about an hour.
Heat a crepe pan on medium high heat until it is very hot. For each crepe, add a small bit of butter and spread it around with a paper towel. Add a ladle of batter, turning and tilting the pan so it is coated. Cook on one side until the crepe is just cooked through, then flip and cook on the other side for 15 seconds.
Makes about 18 10-inch crepes.

Print Recipe
---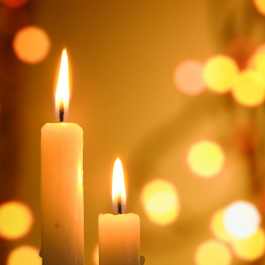 Decoration
Many people in France still celebrate Chandeleur with a religious procession. Candles are lit and carried through the street. You might like to recall this aspect of the holiday by lighting the room with lots of candles while enjoying your crepes.

---
Music
Finally to really mix up the celebration, why not play a little music from Bretagne? (Although they do not have an exclusive claim to them, the Bretons certainly do enjoy a lot of crepes.) The album here is traditional Celtic music, but you can also find lots of other interesting music from this part of France.

---
In the News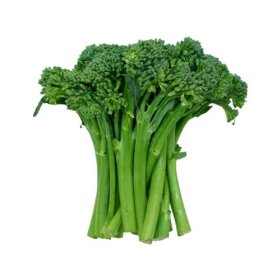 Le Bimi
Here is a vegetable that has suddenly come to market in France and perhaps you can find it in your neck of the woods. Related to broccoli, bimi has a delicious peppery note. Cook it like you would broccoli with the advantage that the slender stocks are eaten as well as the florets. You might find it sold under the name of broccolini.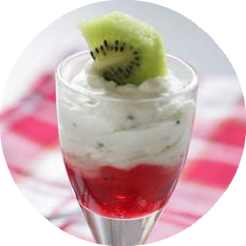 Verrines
If you recall a while back I spoke to you about
verrines
, a very popular appetizer presentation in France. Here is a new website (in French but with lots of great photos) that is devoted exclusively to these little yummies:
Idees Verrines
.
Giant Galette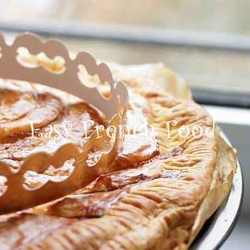 Did you remember to celebrate Epiphany with a
king cake
? The folks in Montrouge certainly did. They paraded through the street with an enormous galette that was then enjoyed by over 2000 people. Follow this link to a completely charming video that includes footage of the bakers at work on the huge cake:
La Galette Géante
.
---
Next Issue
The next issue is due out in early March. Until then happy cooking and eating.
If you are receiving this newsletter because a friend forwarded it to you, you can sign up for your own copy of La Marmite: Subscribe to La Marmite.
You can contact me here if you wish or sign up for the EFF RSS feed here (it keeps you updated on everything I add to the website).
Your friend in France,
Kim