French Christmas Treats
Les Gourmandise de Noël
Issue #15, December 12th, 2009
Bonjour et bienvenue to La Marmite!
Ready to enjoy some French Christmas Treats?
Here in France, any food that is so appetizing that perhaps it leads to overeating is considered a gourmandise. The small, sugary mouthfuls featured here could be further defined as les friandises. No holiday season in France would be complete without enjoying a few sugary friandises.
The first thing you will see upon entering almost any French grocery store from late November until the New Year, is an enormous, many-aisled display of chocolates and other sweet indulgences. Here is a brief tour of the aisles of French Christmas treats and an invitation to come along and enjoy a little sweet something.
---
Papilottes
Found at just about any French Christmas party,

papillotes

enjoy great popularity amongst French kids and a lot of wannabe kids. A chocolate or fruit jelly is wrapped in brightly colored paper with the ends twisted together.

Many times, wrapped up with this candy, you'll find a small firecracker, called a pétard. Pull on the two ends and you get a bang, explaining their popularity with the younger set.
---
Ferrero Rochers
These chocolates are made by the same Italian company that makes

Nutella

. Through a very effective marketing campaign, they have come to be associated with a certain luxurious idea of Christmas, both in France and other countries.

Packaged and displayed with great fanfare, the gold wrapping contains a small round chocolate that itself contains a crispy layer, more chocolate, and finally a hazelnut. Enjoying incredible success, the company now makes an assortment of Christmas chocolates.
---
Candied Chestnuts
A long standing tradition in France, the technique for turning chestnuts into delicious, sugary mouthfuls was perfected in the late 19th century by a certain Clément Faugier. Putting his hometown of Privas in the Ardeche forever after on the culinary map, Faugier extracted the water from chestnuts and replaced it with sugar syrup.

Les marrons glacés can be savored on their own, or they can be used in any number of French desserts as decorations or even as ingredients.
---
Truffles
These French Christmas treats are the chocolate kind, not the fungus. Called

les truffes

, these are usually made from a simple combination of chocolate, butter, and sugar, and sometimes flavored with a liqueur such as Grand Marnier or Cognac. Roughly rolled into balls and then coated with cocoa, these make rich and decadent French Christmas treats.

Here is a quick and easy chocolate truffle recipe, which can make a nice homemade gift if you have the time, or you can buy your indulgence already made.
---
Calissons
Calissons have been a specialty of the town of Aix-en Provence since the 15th century and are frequently included as one of the traditional

13 desserts of Provence

. Considerable care and only the best ingredients are used to make calissons, which explains their somewhat elevated price. These jelly candies are made from a mix of ground almonds, candied melon and orange then topped with a thin layer of white royal icing.
---
Nougat
| | |
| --- | --- |
| This chewy nut filled candy is another one of the Provencal Christmas desserts. The Nougat de Montélimar, a culinary tradition dating back to the 17th century, is made from almonds and honey. Famous throughout France for being a superior nougat, it even has an AOC (Appellation d'Origine Controlee) that guarantees its high quality. Light, sticky, and chewy, French Christmas treats. | |
---
Marzipan
A paste made from almonds and sugar is colored and then shaped into pretty little fruits. Sometimes dates are also stuffed with marzipan.
If you like these sweet little treats, be wary of low priced candies and check ingredient lists. Lower priced products are almost invariably made with inferior ingredients.

---
Homemade French Christmas Treats
Of course, many people find the time to make their own Christmas treats. Here is a delicious and easy recipe I discovered on the French food blog Amuses Bouche.
Made with dired fruits and nuts, these French Christmas treats were surely inspired by the 13 desserts. The recipe includes Pralinoise, which is a special French chocolate that is made with lots of hazelnut paste. If you can't find this, just use a good quality milk chocolate as a substitute.


Les Friandises de Noël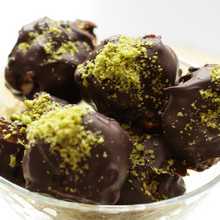 6 ounces dried figs
6 ounces dried apricots
2 ounces candied orange peel
4 ounces raw shelled pistachios
3 ounces raw shelled almonds
3 ounces raw shelled hazelnuts (filberts)
4 ounces Pralinoise (or substitute sweetened quality chocolate of your choice)
8 ounces quaity dark semi-sweet chocolate
Slice and chop the figs, apricots, orange peel, pistachios, almonds and hazelnuts into very small pieces - the smaller they are, the easier it will be to form smooth balls. Reserve a small amount of the pistachios for decoration and chop these very finely. Place the rest of the fruits and nuts in a mixing bowl and stir together.
Melt the pranlinoise in a double boiler and pour it on the fruits and nuts. Use a woden spoon to stir and press the mixture until well mixed.
Using your hands, roll the mixture into about 30 1-inch balls, placing them on a tray covered with wax paper. If your fingers get really sticky, rinse and dry your hands and continue. Place in the refrigerator for one hour.
Melt the dark chocolate in a double boiler. Dip and roll the chilled balls in the melted chocolate to coat them and then place again on a tray covered with wax paper. Decorate with the reserved pistachios while the chocolate coating is still soft.
Let the candies harden at room temperature, then keep them in an air tight container in the refrigerator until you are ready to enjoy. They can last several weeks in the refrigerator, so these would be a good thing to make ahead of time.

Print Recipe
---
Next Issue:
That's it for the small, yummy mouthfuls, but don't forget to try a buche de Noël. You'll find two recipes on EFF. One is for a French yule log made from chestnut puree and chocolate - so simple my son can make it himself. If you are looking for a more traditional buche de Noël here is an easy yule log cake recipe made from genoise and iced with buttercream.
Joyeuses Fêtes and I look forward to seeing you in 2010. The next issue, due out on January 14th, will feature les verrines.
If you're receiving this newsletter because a friend forwarded it to you, you can sign up for your own copy of La Marmite: Subscribe to La Marmite.
A bientot and remember to enjoy your food!
Your friend in France,
Kim
Go from French Christmas Treats to La Marmite Back Issues