August 16, 2008
This month's feature: Carpaccios Bonjour et bienvenue! This is my very first try at a newsletter, so if you have any helpful suggestions, please Contact Me. Merci!

In this issue, you'll find:
Three tasty recipes for carpaccios, perfect for hot weather dinning.
What foods to serve for a French style apéritif.
What drinks to serve as well.
---
Carpaccio
A chef by the name of Giuseppe Cipriani, working at Harry's Bar in Venice in the 1950's, created the first carpaccio. The paper thin slices of raw beef dressed with a vinaigrette were served to satisfy the special needs of a countess whose doctor had forbidden her to eat cooked meat. Inspired by the color of the uncooked beef, the chef named his dish after Vittore Carpaccio, a 15th century painter, who was apparently fond of the color red. You can see some of his work at the ABC Gallery, which is always a fun place to browse.
Carpaccio may have originated in Italy, but French cooks have enthusiastically adopted the technique of using thinly sliced ingredients and gone well beyond the original beef. Here are three delightful combinations you may like to try. Serve these as a first course to a summer dinner, and keep the following points in mind:
- Use only the very freshest ingredients, especially for the duck, which is only "cooked" in lime juice.

- To get the extra thin slices called for in these recipes, you will need a long, and very sharp knife.

- To get thinner cuts, you could try freezing the meat an hour or so before slicing it.
---
Carpaccio de magret de canard
Duck Carpaccio
1 large duck breast
1/2 pineapple, diced
1/2 cabbage, julienned
2 limes, juiced
1/4 cup walnut or hazelnut oil
ground pepper
salt
Cut the duck breast very thinly. Arrange it in a shallow dish with no overlapping pieces. Pour on the juice of one lime and 2 tablespoons of oil. Place in refrigerator to marinate for 20 minutes. In a bowl mix the cabbage and pineapple with the rest of the lime juice and oil. Add salt and pepper to taste.

Arrange the duck with the salad on plates and serve immediately.

Serves 4.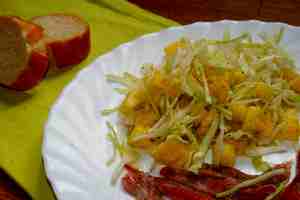 ---
Carpaccio de légumes au sésame
Vegetable Carpaccio with Sesame Dressing
1 firm tomato
1/2 yellow pepper
1/2 green pepper
2 large mushrooms
1/2 cucumber
1 small fennel bulb, two outer leaves removed
juice of 1/2 lemon
3 tablespoons sesame oil
2 tablespoons sesame seeds
1 tablespoon cumin seeds (optional)
salt and pepper
Slice the tomato, peppers, mushrooms, cucumber and fennel as thinly as possible. Place the mushrooms in a salad bowl and sprinkle them with the lemon juice. Add the other vegetables and the sesame oil. Toss gently and season with salt and pepper to taste.

Arrange the salad on plates and sprinkle with sesame and cumin seeds. Serves 4.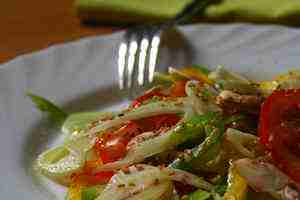 ---
Carpaccio du saumon
Salmon Carpaccio
2 cucumbers, peeled and sliced as thinly as possible
8 ounces thinly sliced smoked salmon, cut in thin strips
juice of 1 lemon
1 tablespoon fresh dill, finely chopped
1/2 tablespoon olive oil
2 tablespoons balsamic vinegar
1 tablespoon French mustard
salt and pepper
Attractively arrange the cucumber slices on four salad plates. In a bowl, mix the sliced salmon with the lemon juice and dill. Prepare a vinaigrette with the olive oil, vinegar, mustard, seasoning with salt and pepper to your taste. Drizzle over cucumbers. Place the salmon on top of the cucumbers. Serve immediately or refrigerate for a few minutes. 4 servings.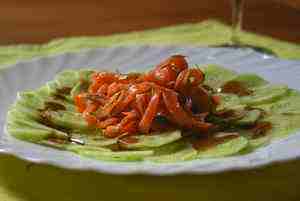 ---
Summertime is Apéritif Time in France If you've ever been to Paris in August, you may have noticed that many of the businesses are closed down for the month. Everyone has gone on vacation! Which means it's a popular time for friends to gather in the evening before diinner for an informal drink and nosh, known as l'heure de l'apéritif or, simply l'apéro.

The good thing about an apéro is you can serve the simplest of foods and you don't have to play host or hostess all evening. Everyone goes home for dinner! The food offered at these get togethers is usually simple finger food, known as amuse-gueles or mouth amusers. Here are eight popular possibilties that you might want to try.
Canapés - Here are some tips on how to make these: Canape Recipes
Cakes - These are savory breads cut in cubes. Try this Olive Bread Recipe - a family favorite.
Tapenade - Either green or black olive paste. Served on toasted rounds of French bread. You should be able to find this in a gourmet food store.
Rounds of saucisson or dry sausage.
A variety of small crackers.
Gougères - Bite sized puffs made from choux pastry and cheese.
Bouchée de chevre - A mouthful of goat cheese. Once again you may be able to find these in a gourmet food store.
Cocktail winnies (oh yes, they eat those too!)
---
Drinks for Your Apéro In the summertime, popular drinks at these get togethers are a Licorice Liquor known as Pastis, port wine, whiskey, kir (a mix of dry white wine with black currant liqueur), beer, champagne and a variety of other cocktails and French Liqueurs.

Red wine is usually reserved for drinking with meals, but sweet white wines such as a Muscat, can be served before dinner. Here is some more information on How to Serve Wine.
---
Until Next Time Thanks so much for spending some time with me. If you'd like to let your friends know about La Marmite, forward this newsletter to them. And feel free to contact me with feedback using this form: Contact Me. Your input is valued! If you're receiving this newsletter because a friend forwarded it to you, you can sign up for your own copy of La Marmite: Subscribe to La Marmite. A bientôt and remember to enjoy your food! Your friend in France,

Kim



New!

Comments

Have your say about what you just read! Leave me a comment in the box below.