September 16, 2008 This month's feature: Omelettes Bonjour et bienvenue to the second issue of La Marmite. I was a bit disappointed with the appearance of my first newsletter, so I've tried to iron out a few of the formatting problems. If you have any helpful suggestions, please Contact Me. Merci! In this issue, you'll find featured:
Three easy omelette recipes - perfect for Sunday night dinner so you can end your weekend on a relaxed note.
Two fabulous fall foods: fresh figs and brussell sprouts, French recipes included. Be sure to enjoy these nutritious foods at least once this autumn.
Food fit for a Tahitian celebration.
---
Omelettes

Omelettes (or omelets, my dictionary tells me that either is acceptable) are a great solution for a last minute supper. Don't hesitate to change these recipes around to fit what you have on hand - the only essential ingredients are eggs! Here are some tips for successful omelette making.
Crack the eggs into a bowl and beat them with a wire whisk. You can add a bit of water or milk to make a fluffier omelette, plus any seasonings, such as peppers or herbs. It's better to sprinkle the omelet with salt after it has cooked as including it in the eggs can make the omelet tough.
Use a nonstick omelet pan or skillet and coat it lightly with cooking spray for perfect nonstick results.
Make sure the pan is heated through before adding the eggs.
As the outside ring of the omelet sets, gently move the cooked portion to the center of the pan.
If you are adding a filling, do so when the omelet is about 80 percent cooked and leave a one inch or so border around the outside so that the filling doesn't spill out.
Once it has set, you can either roll or fold your omelet, then slide it onto a serving dish.
Stop by Easy French Food for more Egg Recipes From France.


---
Omelette aux poivrons rouges et jambon fume
Red Pepper and Smoked Ham Omelet
8 eggs
2 bottled roasted red peppers, rinsed and dried, chopped
4 ounces smoked ham, cut in strips
1/3 cup pitted black olives, sliced
1 tablespoon olive oil
salt and pepper
Heat the olive oil in a non-stick pan on medium heat. Add the ham and cook for about 2 minutes, stirring. Add the pepper and olives and cook another two minutes. In a bowl, whisk the eggs and a pinch of pepper. Pour on top of the vegetables and cook on medium low heat, pushing the cooked portion of the omelette to the center as you go. When it is cooked through, slide the omelet onto a cutting board and slice in squares for an attractive presentation. Season to taste with salt. Makes 4 servings


---
Gateau omelette au saumon at a l'aneth
Salmon and Dill Omelet Torte
2 pounds potatoes (boiled and chilled the day before)
1 pound skinned salmon filet, sliced in thin strips
6 eggs
3 tablespoons chopped fresh dill
1 tablespoon butter
1 cup sour cream
salt and pepper
The day before, boil the potatoes with their skin until they are just tender. Rinse with cold water and put to chill in the refrigerator. The next day, peel the potatoes and cut them in thin slices. Slice the salmon in thin strips Beat the eggs with the sour cream, salt and pepper. Generously butter a 10 inch round baking dish. Place one third of the potatoes in the dish for a first layer. Salt and pepper lightly. Add one half of the salmon and sprinkle with half of the dill. Then pour on half of the beaten eggs. Add another third of the potatoes and sprinkle lightly with salt and pepper. Add the rest of the salmon and sprinkle with the rest of the dill. Finally add the rest of the potatoes, and pour the second half of the beaten eggs on top. Bake in 320 degrees F oven for about an hour. You can serve this hot or cold. Makes 4 to 6 servings.


---
Omelette roulee au cresson
Rolled Watercress Omelet
8 eggs
2 cups chopped watercress leaves
1 cup shredded cheese (comte, gruyere, or swiss)
2 tablespoons milk
1 tablespoon butter
salt and pepper
Beat the eggs with the milk and a pinch of pepper. Stir in the watercress and the cheese. Melt the butter in an omelette pan or skillet. Pour in the egg mixture and cook the omelet on low to medium heat, moving the cooked portions to the center as it progresses. Once it is cooked through, turn off the heat and roll the omelet into a log. Cut in slices and arrange the rounds attractively on a serving plate. Serves 4.

---



Fresh Figs are Now in Season

Late summer and early fall is when you will find fresh figs available. A fig is a very delicate fruit that quickly rots after it has been picked. (That is why in general you will find them dried.). Follow these tips for selecting and storing fresh figs:
Choose slightly soft, wrinkled fruits, that have a plump feel with no signs of mold.
Do not buy hard, smooth figs. The fig does not ripen after it is picked.
If you can pick them off the tree yourself, look for a wrinkled, soft fruit with a drop of nectar hanging from it.
I wouldn't bother storing them in the refrigerator. It kills their flavor and they're not lasting long no matter what you do. Keep them arranged so they are not touching each other. Most importantly, eat them quickly!
You can eat all of the fig, except perhaps for a hard point where it hung from the tree. Just be sure to wash before enjoying.
---

Salade Chevre Figue
Goat Cheese and Fig Salad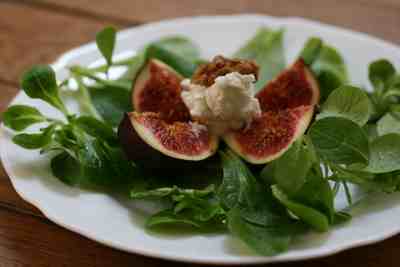 4 figs
4 cups mixed baby greens
4 ounces creamy goat cheese, or you could try feta cheese as well
8 walnuts, chopped
3 tablespoons olive oil
1 tablespoon walnut oil
1 tablespoon vinegar (you pick)
salt and pepper
Wash the figs. For an attractive presentation, cut the fig in four without cutting through the stem, and allow the fruit to fan open. Garnish four salad plates with the greens and the figs. Place one ounce of cheese alongside the fig, and sprinkle with walnuts. Prepare a vinaigrette with the olive oil, walnut oil, vinegar and salt and pepper. Pour on top and serve. Makes 4 salads. Looking for cheese for your fresh fig salad? Amazon.com has a great selection of French Cheese that they deliver right to your doorstep. Look on Easy French Food for more Fresh Fig Recipes and fun fig facts. (Can you tell that I love figs?)

---



Brussel Sprouts

You may find brussel sprouts available year round but they are at the peek of their growing season in the fall. Here's some tips for preparing this close cousin of the cabbage:
Look for fresh, vibrantly green sprouts. Avoid those with brown spots, yellow leaves, or that have a strong odor.
To prepare, cut the stem off of the sprout, but not so short that they leaves fall off. Remove any yellowed or dried leaves.
To clean them and to eliminate any insects that might be lurking in the leaves, submerge the brussel sprouts in vinegar water for several minutes. Rinse abundantly with clean water.
To make them more easily digested (some people complain that brussel sprouts give them gas or a bloated feeling), blanche the brussel sprouts by placing them in boiling water for several minutes, discard the water, and then cook them as you wish.
Brussel sprouts can be steamed, boiled or braised. They are done when you can poke a fork through them.
Here's a stick to your ribs side dish. Serve it with oven roasted chicken smeared with honey and mustard for a great taste combination.

---
Choux de bruxelles aux marrons
Chestnuts and Brussel Sprouts
1 pound brussel sprouts, trimmed and cleaned
6 ounces bacon, cut in small strips
1 cup canned chestnuts, cut in halves or quarters
2 tablespoons butter
salt and pepper
Cook the brussel sprouts using your favorite method. I just boiled them for about 15 minutes in salt water. Rinse and cut the sprouts in two. Melt the butter in a skillet on medium heat. Add the bacon and cook, stirring occasionally for about 5 minutes. Add the brussel sprouts and chestnuts and continue cooking until the bacon is cooked through and the sprouts are braised. Makes 4 servings.


---



Tahitian Celebration

Last weekend we had the chance to be invited to a Tahitian style celebration right here near Paris. The only thing missing was the sunshine! Tahiti is the largest of the islands that make up French Polynesia located in the southern Pacific Ocean. Tahitians are all French citizens, but have a culture that is quite different from many of their compatriots, and of course this difference extends to the food. When they are going to have a big celebration, the people of Tahiti will make a huge oven to cook the food for the party. A tahitian oven is basically a big hole in the ground in which a huge fire is built. Very early in the morning (our hosts were up at 3 am) the fire is started and the hole lined with rocks. After several hours, the rocks attain a high enough temperature and the food, traditionally wrapped in banana leaves, is placed in the oven. After that the hole is covered with dirt and the oven is allowed to do its work for many hours. Party goers gather around the oven when it is time to dig out the meal. Here's what you might find steaming inside a Tahitian oven:
Taro - Taro root is a startchy tuber similar to a potato. There are several different kinds in Tahiti.
Uru - This is breadfruit, which grows on a tropical tree. There are some forty varieties of breadfruit growing in Polynesia.
Fei - Big red bananas that are just a little sweet.
Fafa - These are the leaves of the taro plant that have been cooked in salt water and coconut milk.
Cochon de lait - This is a baby pig that has been nourished only with its mother's milk. After its five hour stay in the oven, the meat is as tender and juicy as you could imagine.
Poe - This is a traditional Tahitian dessert made with manioc starch, coconut milk and smashed banana or papaya.
---

Until Next Time Thanks so much for spending some time with me. If you'd like to let your friends know about La Marmite, forward this newsletter to them. And feel free to Contact Me with feedback. Your input is valued! If you're receiving this newsletter because a friend forwarded it to you, you can sign up for your own copy of La Marmite: Subscribe to La Marmite. A bientot and remember to enjoy your food! Your friend in France,

Kim



New!

Comments

Have your say about what you just read! Leave me a comment in the box below.